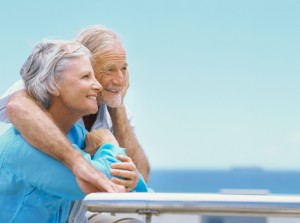 A UK study found that six of ten people over 55 wish they had better cared for their teeth early in life. While this study was conducted across the pond, so to speak, we know that half of Americans don't visit the dentist each year, and only 12% of us floss daily. The American Dental Association recommends flossing once and brushing twice a day with a fluoridated toothpaste. Hollywood's Austin Powers makes fun of Brits for their poor oral hygiene, but perhaps we should look in the mirror before making accusations.
Baby Boomers and Dentistry
Americans born between 1946 and 1964 are deemed baby boomers, and there are 70 million boomers in our nation. This generation is now of senior age, that's 65 and older. During their lifetime, access to dental care, as well as leaps in dental science, technology, materials, and anesthetics have occurred. Also during their lifetime, most US public water supplies became fluoride-fortified.
"When I'm 64"
Paul McCartney turned 70 this year, and even the 80s super-star Madonna has been on the cover of
AARP Magazine
, but baby boomers are still smiling. In fact, they should smile! These common dental concerns wreaked havoc on their parents' health, but today, treatment is more comfortable, quick, and effective than ever.
Amalgam dental fillings
– Most boomers will have had at least one amalgam filling in their lifetime. These dark metal dental fillings contain trace amounts of mercury, a hazardous heavy metal, and they also stand out against an otherwise white smile. At Grinnell Street Dentistry, our dentists place custom-tinted, tooth-colored composite resin fillings instead of amalgam. A boomer who wants to reclaim an all-white smile might consider replacing old amalgam fillings with modern dental resin fillings.
Periodontal disease
– Gum disease afflicts up to 80% of Americans and is the leading cause of tooth loss for adults in our country. Furthermore, gum disease is linked with increased risk for systemic diseases and diabetes, Alzheimer's disease, and dementia. The hygienists at
Grinnell Street Dental
can help you ward off gum disease and, if you have signs of the condition, they offer conservative treatment to restore great gum health.
Missing teeth
– While Americans are keeping their natural teeth longer than any of their ancestors, tooth loss is a concern that grows with age. Today,
dentists
still rely on bridges, partials, and dentures to replace missing teeth, but modern dental materials are more comfortable and natural looking than in previous generations. We also have
dental implants
, the revolutionary tooth replacement option that can solidly anchor dentures and deter jawbone deterioration.
Cosmetic dental concerns
– From stained teeth to chipped, oddly spaced, misaligned, or mis-shapen teeth, imperfections in dentition can cause self-esteem problems. As cosmetic dentists in Sheridan, Drs. Donald, Cody, and Justin Coon offer minimally invasive procedures to address esthetic dental problems. Teeth whitening, cosmetic bonding and recontouring, porcelain veneers, and complete smile makeovers are available at Grinnell Street Dental. If you're unhappy with your smile, don't let it bring you down. Instead, schedule a cosmetic dentistry consultation with one of our experienced dentists.
Schedule Your Visit
Whether you need a six-month checkup and cleaning or you want to explore full-mouth dental restoration, your healthy smile starts with an appointment at Grinnell Street Dental. Call
307-672-7567
today to reserve your consultation in our Sheridan dentist office. We welcome baby boomers and their whole families!
Source:
Medical News Today