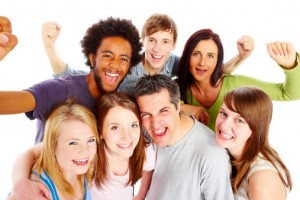 At Grinnell Street Dental, we pride ourselves on offering comprehensive dental care to you and your family. From correcting crooked teeth to brightening a yellowed smile, our dental services address many cosmetic and restorative dental concerns. With Father's Day coming up this weekend, give Dad the gift of knowing that his family's oral health is in the right hands. In this blog post, your Sheridan dentists explain some of the many services they provide.
Achieving a Straight Smile
If a straight smile is what you're after, the team at Grinnell Street Dental has you covered with Invisalign clear braces. For teens and adults who prefer not to wear traditional metal braces, Invisalign is the perfect choice. A custom-made series of clear, custom-fitted aligners uses gentle pressure to move teeth into proper alignment. After only 12 to 18 months, you will have straight smile of your dreams.
Brightening Your Smile
Straight teeth aren't the only important quality in a great smile, the color of your teeth plays a role, too. At Grinnell Street Dental, we offer in-office and at-home teeth whitening. For the in-office treatment, we will apply a bleaching gel to your teeth, then activate it with a special light. You will leave the appointment with a smile that's significantly brighter than when you arrived! If you would rather whiten your teeth at home, we will provide you with custom-fitted trays and a prescription-strength whitening solution. For optimal results, wear these trays for a couple of hours every night for two weeks.
Giving You a Complete Smile
Missing teeth affect more than just your appearance. They can also cause speech problems and difficulty eating. We offer dental implants as an effective solution for replacing missing teeth. A small titanium post serves as the root of the implant. On top, we secure a crown, giving the implant the look and feel of a natural tooth. Implants can also anchor bridges, partials, and full dentures.
At Grinnell Street Dental, we are happy to provide quality dental care for you and your entire family. Schedule an appointment at our Sheridan, Wyoming office today by calling (307) 672-7567.