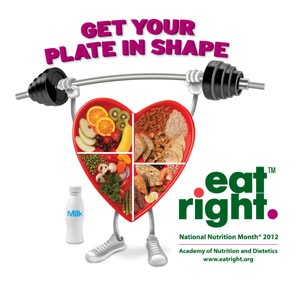 The month of March is National Nutrition Month, and the 2012 National Nutrition Month theme is Get Your Plate in Shape. As the month of March comes to a close, Sheridan dentists Dr. Donald Coon, Dr. Cody Coon, and Dr. Justin Coon urge you to get your own plate in shape to achieve optimal oral and overall health.
The Effects of Snacks on Your Dental Health
Even though a layer of tough enamel protects them, your teeth are very vulnerable to the foods and drinks you consume. Because of this, you need to pay attention to what you eat—avoid sugary, starchy, and acidic foods—and how you eat it.
For example, snacking throughout the day exposes your teeth to constant acid attack, so it's better to eat three balanced meals rather than munch all day long. Still, if you must snack, healthy snacking is the way to go. Read on for some healthy snacking tips from your Sheridan dentists.
Smart Snacking for Adults and Teens
Planning is key when it comes to healthy snacking. There is a place for nutritious snacks in a well-balanced diet, just plan your meals and your snacks ahead of time so that you don't exceed your daily calorie budget.
Snack only when you're hungry. If you feel antsy, bored, frustrated, or stressed, try taking a walk or reading a book rather than munching on your favorite snack.
To avoid overeating, enjoy a single-serving packaged snack or pack your snacks yourself in single-serving portions. Eating directly from a multi-serving bag or box will encourage overeating.
Snacks with 200 calories or less:
One tablespoon of peanut butter spread on apple slices
Six baby carrots, ten sugar snap peas or strips of green pepper, six cherry tomatoes, and two tablespoons of reduced-fat ranch dressing
One toaster waffle topped with ½ cup of blueberries and two tablespoons of low-fat yogurt
One six-inch flour tortilla with ¼ cup of black beans and two tablespoons of fresh salsa
Two cups of mixed greens with ½ cup of mandarin oranges, one tablespoon of sliced almonds, and two tablespoons of reduced-fat dressing
Just keep these healthy eating tips in mind and you'll be on your way to a healthy smile and a healthy waistline in no time! To reserve an appointment at Grinnell Street Dental, call our Sheridan, Wyoming dentist office at (307) 672-7567.