Cosmetic dental bonding corrects smile imperfections such as gaps, chips, and permanent stains. The material we use for tooth-colored fillings, which is called composite resin, is also used for cosmetic bonding. We'll tint the composite materials to blend with the color of your natural teeth, so the bonded area will look completely natural in your smile.
Usually, Dr. Coon can perform dental bonding in a single visit. After examining the tooth to be corrected, he'll prepare the site and apply adhesive so that the bonding will stick. Dr. Coon will then shape the resin to fit the designated space and cure it with a special light. With proper care, your restoration should last at least 10 years before needing replacement.
Looking for a long-term, stain-resistant alternative to bonding?
Read about porcelain veneers here.
Dental Bonding Gallery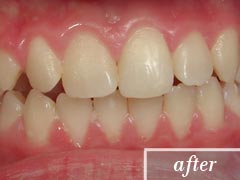 Is Tooth Bonding Your Best Option?
Find out if tooth bonding is your best option for improving your smile by speaking with your dentist. To schedule a consultation, call Grinnell Street Dental at (307) 672-7567. Located in Sheridan, WY, we also proudly serve the residents of Gillette, Billings, Miles City, and all surrounding communities.