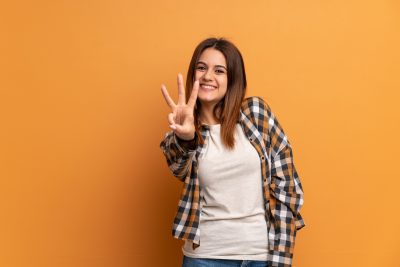 It seems safe to assume that no one who goes to see their dentist wants to hear that they have a cavity. Unfortunately, many routine dental visits will lead to the detection and treatment of tooth decay. While our Sheridan, WY dental office is prepared to help when our patients need restorative work because of cavities, we also offer general dental services that help reduce your risk for oral health problems. When you combine regular dental appointments with better habits at home, you become less likely to need a dental filling or dental crown at a future appointment! While cavity-related care is certainly important, we should note that patients also benefit from routine services because they can lead to the detection and treatment of other issues, like TMJ disorder.
1. Brush For At Least Two Minutes
Are you really cleaning your smile thoroughly enough to stay cavity-free? If you are not giving yourself at least two minutes to reach and clean every area, you can have difficulty removing plaque and food deposits from those harder-to-access areas, which makes problems more likely to occur in the future. During those two minutes of brushing, make a conscious effort to reach every part of your smile. Take care to brush at your gum line, as this fights the buildup of bacteria that can lead to gum disease. One change to avoid is brushing more forcefully. When you do this, you can cause more friction, which leads to enamel erosion that can lead to oral health concerns and unwelcome changes to your smile.
2. Drink More Water On A Daily Basis
Is it time to set aside soft drinks at meals and replace them with glasses of water? When you make this change, you cut back on sugar consumption and you avoid exposure to acidic beverages that can cause teeth stains. While these are important benefits, you should recognize that water is more than just a good soft drink substitute. More water means better hydration levels, which will make it easier for you to naturally fight oral bacteria on your own.
3. Be Consistent With Your Preventive Dental Visits
Should you be more concerned about your daily habits or your access to professional dental care? To keep your smile safe, you should be consistent with both, as each has a role to play in keeping your mouth healthy. At your regular visits, your hygienist will remove tartar deposits that you cannot clear away yourself, and your dentist will look closely for any issues that call for care. At home, your daily routine will stop tartar from forming, and lower your exposure to bacteria and food debris that can hurt your dental health.
Talk To Your Sheridan, WY Dentist About Cavity Prevention
Grinnell Street Dental is prepared to help patients avoid cavity problems! In addition to providing important services in the office, we can recommend changes in your daily routine that help you stay free of smile concerns over time. To find out more, contact our dental office in Sheridan, WY at 307-672-7567.