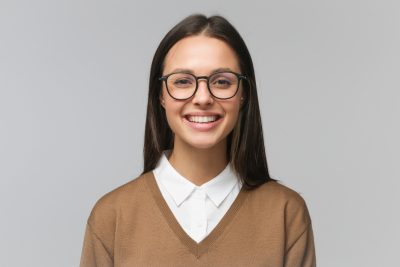 There are treatment options that are effective at restoring a number of frustrating smile flaws. As you look into cosmetic dental work for your own smile concerns, you can find that porcelain veneers are able to take on a number of potential issues that affect you. These slim restorations help patients affected by discoloration, problems with enamel damage or wear and tear, and even issues with the spacing of your teeth. At our Sheridan, WY dental office, we can meet with you to discuss the value that veneers can have for you. While this treatment option is capable of helping many people, it is only one of several services that we can offer those who wish to do something to change how they look.
Do Visible Issues With Teeth Affect Your Smile?
When you have issues with your teeth that affect your appearance but not your oral health, you can look into the benefits of cosmetic dental services. Cosmetic treatments are only focused on changing the way you look, not on issues with your dental well-being. As a result, these services can actually be more conservative than you expect. To place veneers, we only need to change a small amount of your tooth structure to make space for them. Typically, patients can have this work completed in as little as two appointments.
Using Veneers To Make Beneficial Restorations
Before you receive veneers, your teeth will be closely measured. The measurements that we take will be used to make thin shells that cap the fronts of your teeth – by making sure these restorations are just the right shape and size, we can make sure that they fit properly and look natural. The porcelain substance used to make veneers is strong enough to hold up against years of biting and chewing pressures. What this means is that you can have confidence in your cosmetic treatment to provide benefits that last many years!
Other Cosmetic Services That Can Help You
If you are focused on changing your smile by addressing teeth stains, but do not have issues with the condition of your teeth, you can arrange a professional teeth whitening procedure. Whitening agents that are available from your dentist's office can address significant discoloration that store bought whitening agents are not able to remove. In some cases, we can move forward with tooth bonding treatment to restore the appearance of your teeth. Bonding treatment makes restorations unnecessary, which means your teeth can be restored with less preparatory work.
Talk To Your Sheridan, WY Dentist About Veneers!
Our Sheridan, WY dental office is prepared to help patients who feel self-conscious about the way they look when they smile. One treatment option we have is to restore teeth with porcelain veneers, thin shells that address problems like discoloration, wear and tear, and more! To find out more about this and other cosmetic treatments, call Grinnell Street Dental at 307-672-7567.