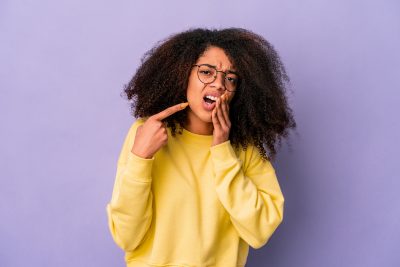 Is it time for you to start worrying about dental pain or sensitivity? The onset of pain can be alarming, whether the problem is with general discomfort when you bite and chew or an issue with a specific tooth. If you are dealing with any kind of pain that seems to suggest you have an oral health issue, our Sheridan, WY dental office can help! When you go in for treatment, we can evaluate you to see what issue or issues might be impacting your well-being. A painful or sensitive tooth could require restorative treatment because of decay or an overlooked injury. If you have issues with biting, chewing, and/or speaking because of general pain or stiffness, we may need to provide treatment to address TMJ disorder.
Are You Having Trouble With A Sore Or Sensitive Tooth?
A brief period of tooth pain or sensitivity can be unpleasant, but a lingering issue with discomfort can point to a problem that your dentist should address. You may have tooth pain for a relatively short time because of sinus pressure, or because of sensitivity concerns. When pain does not subside, you should look into treatment to address the matter. That discomfort can be a sign that you have an advanced cavity, or that an injury has led to a tooth infection. Our practice can restore vulnerable teeth without changing your smile. Both our dental fillings and dental crowns are capable of mimicking healthy tooth structure. Thanks to the CEREC technology in our office, we can actually restore a tooth with a crown in just one appointment!
Jaw Pain, Stiffness, And Sensitivity Can Be Symptoms Of TMJ Disorder
TMJ disorder is the result of a problem with poor jaw joint alignment or poorly managed stress on the joints and muscles. By performing an evaluation, we can determine if your experience with pain, sensitivity, or stiffness is related to this issue. Some common symptoms of this problem include:
An increased frequency of headaches
Popping or clicking sounds when you move your jaw
More trouble with teeth grinding, including nighttime teeth grinding
Pain in your neck and shoulders
Regular Checkups Protect You Against Problems That Can Cause Pain
By visiting your dentist on a regular basis, you can receive important feedback about the condition of your teeth and jaw. Early detection and treatment prevents problems with tooth infection that occur after a cavity forms. When a cavity is identified before it becomes serious, it can be treated with a dental filling. At a checkup, we also have the opportunity to look out for symptoms of awkward jaw movement or teeth grinding that point to a problem with TMJ disorder.
Talk To Your Sheridan, WY Dentist About Your Pain Or Sensitivity Issues
At Grinnell Street Dental, we can help patients deal with issues that are causing them to experience issues with dental pain or sensitivity. To find out more, please reach out to our dental office in Sheridan, WY by calling 307-672-7567.