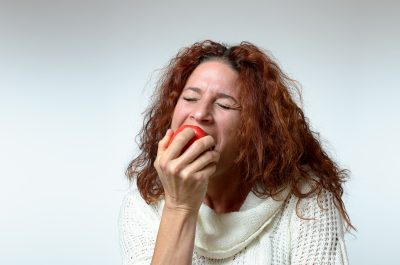 Tooth loss makes it difficult to bite and chew in a way that feels natural. For someone who is just missing one tooth, the solution to this problem can seem obvious – just avoid putting pressure down at the site where your tooth was lost. Unfortunately, this change in your bite function can have an unwelcome effect on your oral health and jaw health. It can lead to a change in your joint alignment that leads to TMJ disorder, and it can cause you to unintentionally overuse your remaining teeth, making them more vulnerable to problems. Finding a comfortable way to bite can become even more difficult if you are missing multiple teeth. Your Sheridan, WY dentist's office can help you regain a confident smile and restore your bite by providing you with prosthetic dental work!
Tooth Loss Creates Serious Oral Health Issues For People
Tooth loss can have many negative effects, effects that can worsen when you lose more teeth. The loss of confidence in your bite can lead to unhappy diet changes that make it harder to stick to healthy choices. You can also feel self-conscious when you smile, develop pain from awkward biting and chewing, and lose more teeth over time. The sooner you schedule prosthetic treatment, the sooner you can give yourself back a more confident appearance and dental function.
Using Dental Implants To Restore Your Appearance And Dental Health
Dental implants effectively hold replacement teeth in position by imitating the role our natural teeth roots play in restoring our smiles. Your implant can protect your neighboring teeth by giving their roots more support, and it can even help you sustain your jaw health by stimulating the bone, an action that tells your body to keep delivering nutrients to these tissues.
We Can Also Use A Dental Bridge To Permanently Replace A Lost Tooth
Implant dentistry offers many benefits. With that said, some patients can be poor candidates for surgery of any kind, or they may be looking for a solution that takes less time. Dental bridges are also permanently-set prosthetic appliances. When they are put in place, they provide bite support as well as a means of covering a gap in your smile. Your bridge remains in place thanks to a pair of dental crowns at either side of the appliance, which are set on the teeth at either side of your smile gap.
Talk To Your Sheridan, WY Dentist About Implant Dentistry
At Grinnell Street Dental, we are ready to help patients who are missing teeth regain confidence in their full smile, and in their ability to bite and chew! To learn more about our different prosthetic treatment options, or to discuss any other oral health matters that concern you, please contact our dental office in Sheridan, WY by calling 307-672-7567.