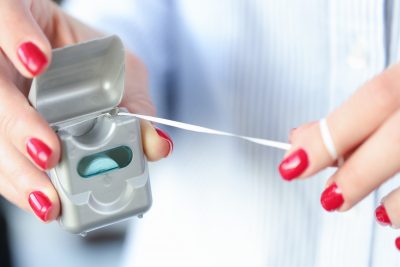 Poor oral hygiene habits make it difficult for you to prevent problems with the buildup of plaque and tartar, and they make it hard to avoid possible issues with tooth decay and gum disease. Are you currently doing enough to keep your teeth healthy and problem-free? Many people fail to see how a lack of consistent flossing is putting them at risk for problems. When you do not floss on a regular basis, you leave the spaces between teeth vulnerable to the accumulation of harmful bacteria and food debris. In time, this can lead to problems with unsightly tartar formations as well as issues that require professional dental services. At our Sheridan, WY dentists' office, we can provide important preventive dental services during your routine appointments, but you should make sure your daily routine is keeping you safe from trouble between visits!
Why Good Oral Hygiene Routine Habits Are Worth Maintaining
If you want to avoid problems that call for professional dental work, make sure you have a daily oral hygiene routine that effectively keeps plaque, tartar, and food debris from accumulating. Unfortunately, if plaque deposits remain in place for too long, they harden and form tartar – at this point, you will not be able to remove them. When you have a hygiene routine that includes flossing at least once a day and brushing at least twice a day, you can have an easier time preventing that accumulation of harmful bacteria and the formation of tartar. However, problems with inconsistency, or a lack of thorough cleaning, can make trouble more likely to occur.
How Flossing Helps You Maintain A Lovely And Healthy Smile
Flossing targets the spaces between your teeth to remove any plaque and remnants of food that can gather in these areas. There may be little space separating one tooth from the next, but we do have enough room to let harmful bacteria build up, and we can certainly experience problems with food becoming wedged between our teeth. If you see flossing as just a means of removing food bits that become stuck, you can leave yourself vulnerable to tartar formation between your teeth. When plaque and tartar are not being dealt with, you are more likely to suffer from problems that call for the placement of dental fillings and dental crowns.
Stay Informed About Your Oral Health By Scheduling Regular Dental Exams
At your regular dental exams, your dentist will provide you with important information about your oral health. In addition to warning you about excess tartar buildup, gingivitis, or gum disease, we can discuss other concerns. Problems like TMJ disorder can be identified and treated to put a stop to problems with ongoing tooth pain and sensitivity.
Your Sheridan, WY Dentists' Office Can Help You Maintain Your Healthy Smile
Grinnell Street Dental can help patients by providing important feedback about their oral health, and by providing guidance on better oral hygiene habits. To find out more about our practice and services, you can reach our dental office in Sheridan, WY by calling 307-672-7567.