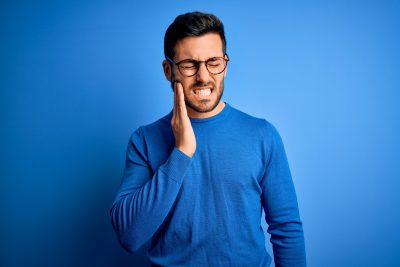 If you crack your tooth, you should make its treatment your priority. Even if the damage does not seem significant at first, it can grow worse in time if it does not receive the proper care. Our Sheridan, WY dentist's office is prepared to help whenever a patient comes to us about dental damage. We can evaluate the tooth before recommending treatment in order to see how much work is really needed. Less serious cracks may be treatable with cosmetic dentistry. However, if the problem is more serious, we can recommend restorative dental work to prevent complications. Our practice can promptly restore a more serious injury by providing a same-day dental crown.
Tooth Bonding Treatment Can Help With Minor Damage
Minor chips and cracks can be treated conservatively. A tooth bonding procedure hides damage with a composite resin material that can be used to make tooth-colored dental fillings. When applied to the surface of your tooth, it can cover up a crack so that it is no longer visible or vulnerable. This approach lets us move forward with treatment without a custom restoration, which can shorten the amount of time you spend in treatment!
Covering Damage With A Custom Porcelain Veneer
Porcelain veneers are thin, surprisingly strong shells that cover the front surfaces of teeth that are damaged, discolored, or flawed in some different way. While this requires more preparatory work than tooth bonding treatment, it still preserves more of your tooth structure than care with a dental crown. Your veneer will be crafted to fit your tooth specifically, which can ensure that it looks natural and stays secure without issue.
We Can Use A Same-Day Crown To Restore Your Cracked Tooth
When necessary, your dentist will recommend restorative dental work. Restorative treatments address oral health concerns as well as cosmetic problems that stem from an injury. We use CEREC technology at our practice to create personalized dental crowns in just one visit. We have all the technology that is necessary for measuring a tooth, digitally making the restoration, and producing it so that it can be put in position. This makes our treatment approach more convenient than the approach taken by many other practices, which often rely on third party labs to make their crowns.
Talk To Your Sheridan, WY Dentist About Treating Your Cracked Tooth
At our dentist's office in Sheridan, WY, patients who chip or crack a tooth can come to us for the appropriate care. We have multiple treatment options that we can recommend, which means we can tailor treatment to your individual needs. If you would like to find out more about our services for dental injuries, or if you want to learn more about our general treatments, call Grinnell Street Dental in Sheridan, WY at 307-672-7567.