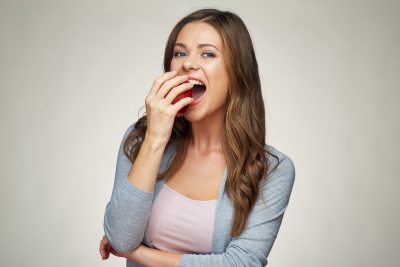 A smile that appears healthy may have issues that need to be addressed by your dentist. If your "healthy" smile is not able to bite and chew in a way that feels natural and comfortable, you should look into the matter, as the problem may worsen in time. Problems with tooth pain or sensitivity can be a warning that you have an infection that requires restorative dental work. Trouble with general stiffness and pain can be linked to TMJ disorder, an issue with your bite alignment that negatively impacts your well-being. Our Sheridan, WY dentist's office is here to help patients struggling with sensitivity or pain issues. After the matter is identified, we can make sure that the appropriate care is performed so that your smile and dental function are preserved!
Bite Pain Is Not Something You Should Ignore!
Bite pain can be a big warning sign that something is wrong with your oral health. This is true for isolated aches and pains as well as for broader discomforts. In fact, your bite troubles may affect areas beyond your jaw. People who have TMJ disorder can experience frequent headaches, and may experience discomfort in their neck or shoulders. You should bring up any bite pain or stiffness issues that you have when you see your dentist. If the discomfort you feel forces you to change the way you bite and chew, seek treatment so that you can restore your dental function and avoid complications!
Arranging Restorative Work For An Injured Or Infected Tooth
An injured tooth, or one affected by a cavity, is vulnerable to being lost. The sooner you have your dentist investigate the matter, the sooner you can put it behind you! After addressing the cause of your discomfort, we can make sure that the tooth remains safe by capping it with a custom dental crown. With the same-day technology in our office, we can make sure your restoration is fitted in place after just one appointment! By regularly seeing your dentist for preventive care, you can have problems evaluated and treated in time to receive dental fillings. These restorations are more conservative, which means they can provide protection while leaving more of your enamel alone.
Resolving Tension From TMJ Troubles
Unresolved problems with your bite function will make it difficult for you to move your jaw without pain, or without encountering some resistance. Issues with TMJ disorder can be traced back to anything that interferes with the coordinated movement of your jaw joints. Injuries, inflammation, pressure buildup from a flawed bite, and other concerns can interfere with your quality of life and cause discomfort to be a regular concern. We can work with you after determining the source of your trouble and help you move on from discomfort!
Talk To Your Sheridan, WY Dentist About Resolving Your Bite Pain
Grinnell Street Dental is ready to help individuals who struggle with pain, sensitivity, or stiffness when they bite and chew. If these problems affect you, call our dentist's office in Sheridan, WY at 307-672-7567.