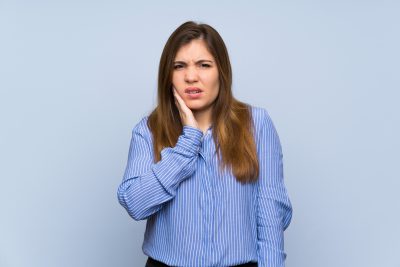 Life can be less pleasant when jaw pain accompanies your efforts to bite, chew, or speak. Unfortunately, this problem can be the reality for people who have unresolved problems with TMJ disorder. This condition can be the result of several possible problems. You may struggle with it because of poor joint alignment, stress related to chronic teeth grinding, or even from issues that stop you from maintaining a comfortable bite movement. At our Sheridan, WY dentist's office, we can discuss TMJ treatment during a routine dental visit, or you can reach out to see how treatment can help alleviate the ongoing issues you have with jaw pain and stiffness.
How Often Do You Experience Pain In Your Face, Jaw, Or Head?
How likely are you to feel pain or stiffness in your jaw when you eat? Do you suffer headaches relatively often? Has pain in your face or neck become a concern? Many people struggle with these issues because of TMJ disorder. Generally speaking, TMJ disorder arises when something affects the health or alignment of your jaw. Uneven movements, arthritis in your jaw joints, teeth grinding, and any other issue that interferes with the jaw joints or muscles can lead to these discomforts. Until the matter is treated, you can have regular problems with pain and stiffness as well as trouble with grinding, headaches, and other problems.
What TMJ Treatment Involves
The solution to your TMJ disorder can depend on what is causing your difficulties. For many people, oral appliance therapy can be helpful. You will receive a custom oral appliance that is worn while you sleep. While you are at rest, the appliance will hold your jaw in a position that is better for your joints and muscles. This can reduce tension on these areas and encourage a straighter, healthier bite movement. Over time, this can reduce stress that is responsible for you negative feelings!
Will You Need Restorative Dental Work To Help Restore Your Bite Function?
It may be necessary to restore teeth that cannot provide adequate bite support if you hope to resolve problems with TMJ disorder. The placement of custom dental crowns can make it easier for you to bite down without discomfort. This work can also help if you have smaller teeth that are not able to contribute properly to your bite. Something we can also discuss is Invisalign treatment to fix malocclusion. Problems with your smile alignment may be responsible for your awkward or uneven bite.
Talk To Your Sheridan, WY Dentist About Relief From Jaw Pain
Our dentist's office in Sheridan, WY is ready to help you enjoy relief from chronic jaw pain. In addition to providing oral appliance therapy to help alleviate stress and jaw tension, we can discuss restorative work to improve your bite function. To find out more, or to make an appointment to discuss TMJ disorder, call Grinnell Street Dental at 307-672-7567.