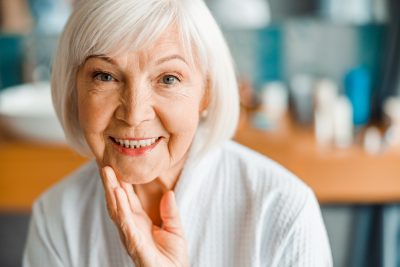 When you decide to go without a replacement for a missing tooth, you expose yourself to more than just an embarrassing cosmetic flaw. Our natural bite function operates with the expectation that we always have a full set of teeth. What that means is that one missing tooth is all that it can take to hurt your ability to bite and chew – if you lose more teeth, the problem can worsen. Our Sheridan, WY dentist's office is prepared to help by providing custom dental bridges for patients with missing teeth. Bridges offer permanent support without oral surgery, making this an accessible long-term solution for problems with tooth loss.
Is It Time To Do Something About Tooth Loss?
If you continue to ignore problems with tooth loss, you can find that they actually lead to more trouble for your well-being over time. The change in your bite function can overwork your remaining teeth, and it can lead to functional changes that make you vulnerable to TMJ disorder. You also stay at a great risk for tooth loss when you do not replace a missing tooth, as those teeth at either side of a gap have less support and are more likely to start shifting and becoming loose.
Arranging The Placement Of Your Custom Dental Bridge
A custom dental bridge consists of a pair of dental crowns at either side of your pontic, or replacement tooth. When these bridges are capped onto the teeth next to your gap, they make sure that your restoration is secure enough to stay in place even when you put pressure on it while biting down. This means you can go back to a regular bite function, as there is no longer a part of your smile you have to avoid putting pressure on. Your dentist can take a series of important measurements to be used in the creation of a bridge that will look like a natural part of your smile, so this work can restore your appearance as well as your oral health.
We Can Also Make Plans To Use Implants To Restore Your Smile
While dental bridges provide exciting benefits to patients, they do not address the problem of jawbone resorption by themselves. Jawbone resorption occurs after tooth loss, as your jawbone no longer hast stimulation from a tooth (or teeth) signaling for the delivery of nutrients to the bone. A dental implant that holds a restoration will recreate this stimulation and return the flow of nutrients to this area. Implants are also advantageous because they prevent shifting from neighboring roots, and because they make a permanent response to tooth loss possible without modifying neighboring teeth.
Talk To Your Sheridan, WY Dentist's Office About Receiving A Dental Bridge
Grinnell Street Dental is ready to help patients who have experienced tooth loss and are ready to show off a complete smile again. To find out more about how we can help you, reach out to our dental office in Sheridan, WY by calling 307-672-7567.