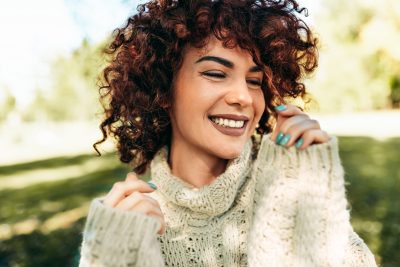 The way you feel about your smile today may not line up with how you felt about it in the past. This is because a person's appearance can gradually change over time as wear and tear, teeth stains, and other issues alter the look of their teeth. If you have started to grow dissatisfied with your appearance, or if cosmetic concerns have affected you for a longer period of time, your Sheridan, WY dentist can help! We offer several cosmetic dental procedures that are effective at resolving the problems that tend to make people self-conscious about the way they look. One approach we can take is tooth bonding treatment. This service only makes conservative changes to your tooth structure, but the work can lead to lasting improvements!
How Do You Currently Feel About Your Smile?
The way you feel about your smile can be influenced by a number of factors. The color of your teeth can affect your confidence, as can the appearance of chips or cracks in your enamel. You may feel that your smile seems off simply because of a few problems with the shape, size, or alignment of teeth that affect your symmetry. When you discuss these concerns with your dentist, you can learn how a bonding procedure directly alters flawed teeth to improve your overall appearance, and discover how the process can lead to results without the need to place a permanent restoration like a dental crown or dental veneer.
Understanding The Benefits Of Tooth Bonding Treatment
A tooth bonding procedure uses composite resin, a material that can also be used to produce tooth-colored fillings, in order to change a tooth's shape, size, and color. This substance is applied directly to your enamel, with care taken to make sure it makes your tooth look healthier, brighter, and more attractive. The material will become permanently affixed (or "bonded") to the tooth structure to produce long-term changes!
We Can Walk You Through Other Cosmetic Treatment Options
The tooth bonding treatment is a desirable approach to cosmetic work for many people. After all, this is a procedure that can minimize changes to your tooth structure, and it is something we may be able to complete in just one appointment. With that said, there are other options available that you should review. You may decide that you prefer to have veneers placed, as porcelain veneers provide a more durable cosmetic solution. You may also prefer to simply focus on the color of your smile and undergo a professional whitening treatment.
Talk To Your Sheridan, WY Dentist About Tooth Bonding!
At our Sheridan, WY dentist's office, we are ready to help patients who are worried about the shape, size, or color of teeth impacting the quality of their smile. To learn more about our practice and different services, please call Grinnell Street Dental at 307-672-7567.