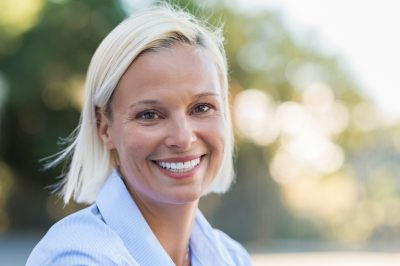 It can be hard to show off a truly confident smile if you are embarrassed by teeth stains. What can be especially frustrating is a failed effort to make your smile brighter. Unfortunately, many people will turn to store bought whitening products and see limited improvements. In order to make noticeable changes to your appearance, talk to your Sheridan, WY dentist about cosmetic dentistry! We offer teeth whitening treatments that you can take home, as well as in-office whitening services. Both of these options can give you a significantly whiter smile, which can lead to a welcome boost to your overall confidence in the way you look.
Many People Are Bothered By Teeth Stains
Teeth stains are difficult to avoid, as we can pick them up from many popular foods and drinks. Even with a good oral hygiene routine in place, it can be hard to prevent gradual changes to the color of your smile. Fortunately, professional whitening treatments can help restore the color of your teeth by dealing with the particles that have gathered on your enamel. These treatments are effective even at removing stains below the surface of your enamel, something that store bought products can fail to do for you.
Choosing A Whitening Treatment That Suits Your Needs
You can decide if you are better served by an in-office whitening treatment, or if you would prefer to take home a customized whitening kit. Both of these approaches are effective at delivering noteworthy results. With the take-home kit, you can fit your whitening treatment around your schedule. This makes it easier to work in when your daily life is hectic, or if you just prefer to handle the matter on your own. Your kit will include personalized trays that make the application of whitening agents easier. If you want results faster, or if you like the convenience of having your dentist take care of your smile, you can schedule a single appointment to have your teeth made notably brighter.
We Can Address More Than Just Discoloration
Through cosmetic dental work, we can address a range of issues that make people self-conscious about the way they look. If you are bothered by misshapen teeth, problems with poor alignment, or dental damage, we can talk about the benefits of porcelain veneers, or we can suggest treatment through tooth bonding. Both are effective while requiring modest changes to your teeth. With a bonding procedure, a resin substance is applied to your enamel to cover up problems and improve tooth color. To make space for veneers, only a small amount of your tooth structure must be modified. When this work is done, the veneers are applied to the fronts of teeth to hide flaws.
Talk To Your Sheridan, WY Dentist's Office About Embarrassing Teeth Stains
Grinnell Street Dental is prepared to help patients who wish to make changes to the way they look. If you are tired of being embarrassed by teeth stains, or if you want to discuss any other cosmetic services we offer, you can contact our dentist's office in Sheridan, WY by calling 307-672-7567.