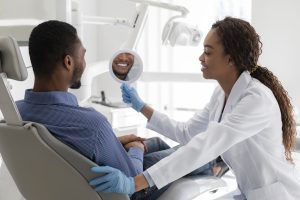 If you are doing a good job caring for your smile between appointments, you can regularly leave routine dental exams without scheduling anything other than your next preventive visit. So what will happen if your dentist notices something wrong with your oral health? At our Sheridan, WY dentist's office, we are prepared to address a problem once it has been identified. Acting quickly to resolve trouble with your smile limits your risk for complications, and it can ensure that you have your work completed in less time. Because we use CEREC technology to create dental crowns that are available in just one day, we can make short work of your oral health trouble even if your problem calls for more than a dental filling.
Delaying Cavity Treatment Can Lead To Complications
If you put off a cavity treatment, you make yourself vulnerable to complications that can change the way your smile is ultimately cared for. When a cavity is given enough time, it will continue to grow until your pulp (the central chamber of the tooth) is exposed to infection. When that occurs, you face the risk of tooth loss and are more likely to experience troubles with pain, sensitivity, swelling, and discoloration.
What Will It Take To Restore Your Tooth?
After an evaluation of a problem tooth, your dentist will know what kind of treatment is required to restore your oral health. A cavity that is caught in time can be restored with a tooth-colored filling that occupies the space where decay spread. If there is already too much damage for this, we can instead recommend treatment with a custom dental crown. Other practices require more than one appointment for the placement of a crown, as they have to take measurements of the tooth that are then sent to a third party lab to have their restoration created. Our practice will actually be able to produce a crown in the office to have your tooth restored in one day!
We Can Address More Than Just Decay
Checkups are concerned with more than just dental decay. The regular cleanings that take place during these appointments help you avoid cavities and gum disease. During an evaluation, your dentist will speak with you about signs of stiff or awkward jaw movement, issues that are linked to TMJ disorder. Thanks to laser technology we have on site, we can even help you take care of a cold sore!
Schedule A Checkup With Your Sheridan, WY Dentist
At Grinnell Street Dental, patients can count on prompt care whenever problems are identified at routine dental visits. In addition to addressing common problems like tooth decay, we can identify and work to restore a range of other problems affecting your well-being. To learn more, you can reach out dental office in Sheridan, WY by calling 307-672-7567.