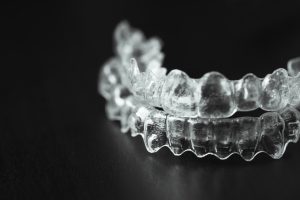 Teeth that are too far apart, teeth that look crowding, or teeth that appear to be recessed due to a lack of space can create frustrating cosmetic concerns. Many people who have issues with poor smile alignment can feel self-conscious about the way they appear. What you should know is that in addition to creating trouble for your smile, alignment flaws can also create trouble with your bite function, and may make it harder to avoid problems with tooth decay and gingivitis. Fortunately, these issues can often be addressed with Invisalign appliances. These aligners are made to avoid notice, and also to be easily removed. As a result, you can be delighted to find a solution for orthodontic treatment that you can easily adjust to!
Can I Really Fix Alignment Flaws Without Metal Braces?
One reason people put off treatment to fix poor smile alignment is out of concern for having to wear metal braces. These braces are effective at correcting gaps and overlaps, but it can be frustrating to wear something that is permanently affixed to your teeth. The inability to remove braces, along with their conspicuous appearance, can make them a less than ideal solution for malocclusion, even if they are effective at fixing these problems. With Invisalign, you can do something about alignment flaws without committing to metal braces.
Your Invisalign Treatment
In the course of your Invisalign treatment, you will rely on a series of aligners to gradually move teeth that are out of place. Each one marks a step on your journey to a straighter, more symmetrical smile. You can remove your appliances on your own, which means they are not going to cause interference whenever you brush your teeth, floss, or eat. When they are in place, the clear plastic material they are made from can ensure that they go unnoticed!
In some cases, we may be able to explore cosmetic dental work as an alternative to Invisalign. If you qualify, we can actually hide gaps and overlaps with custom porcelain veneers. This approach can offer a faster solution for smile problems for those who have milder issues with malocclusion.
Orthodontic Work Can Provide More Than Just Cosmetic Benefits
When you treat problems with the spacing of your teeth, you can address more than just the way you look. Alignment troubles can negatively affect your bite, which can make you more vulnerable to TMJ disorder. Your problems with malocclusion also create concerns for your oral hygiene, as it may be difficult to fully clean teeth that overlap.
Talk To Your Sheridan, WY Dentist's Office About Invisalign
With Invisalign aligners, our practice can take care of issues with smile gaps and overlaps that affect your appearance. To find out more about this and other services, please contact Grinnell Street Dental in Sheridan, WY by calling 307-672-7567.