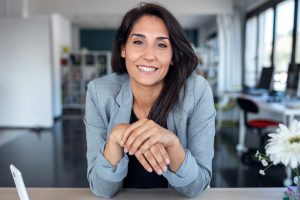 What will happen to your smile after you undergo treatment for a cavity? You may worry that a cavity in a conspicuous space will mean the end of your confidence in the way you look, as you imagine receiving a restoration that looks awkward and out of place. What you should know is that at our Sheridan, WY dentist's office, we can actually provide restorations that blend in with your surrounding enamel in order to preserve your smile. When it comes to placing dental fillings, we can use a material that matches the appearance of your surrounding tooth structure. What this does is preserve the appearance of a tooth by making sure that the filling is difficult to notice. In addition to providing cosmetic benefits, this approach helps you maintain your oral health by keeping a tooth defended against a new infection or physical damage.
Tooth-Colored Dental Fillings Are Available To Our Patients
When our patients experience problems with dental decay, we can provide treatment with a discreet restoration that keeps their tooth safe while still preserving the way they look. Instead of using an amalgam metal material to craft your filling, we can instead use a metal-free composite resin material. This substance imitates enamel, and also bonds with it to provide a remarkable degree of support.
Receiving A Dental Filling
The placement of a filling will occur after a cavity is carefully removed from your tooth. The composite resin material used to make fillings will be applied in a liquid form to the space where the cavity had formed. After that occurs, the substance will bond with the surrounding enamel, and we will take care to make sure it fully protects this vulnerable area without looking out of place. This process can be completed in as little as one appointment, making the process less time-consuming than you may expect.
Why It Is Sometimes Necessary To Use A Crown Instead Of A Filling For Cavity Treatment
While dental fillings are remarkably strong, and able to provide protection for many years, they can be less effective when a larger cavity forms. To take care of a tooth with more damage, we can instead place a dental crown. Our crowns are made with CEREC technology, which allows us to place them in as little as one appointment. These restorations, like our metal-free fillings, also cosmetic benefits as well as oral health support.
Your Sheridan, WY Dentist Can Restore Your Smile With A Tooth-Colored Filling
At Grinnell Street Dental, patients will be able to receive restorations that closely match the look of their healthy teeth when they have problems with decay. As a result, they can remain confident in their smile while also being comfortable with their ability to bite and chew with a tooth that has undergone treatment! To find out more, call our dentist's office in Sheridan, WY by calling 307-672-7567.