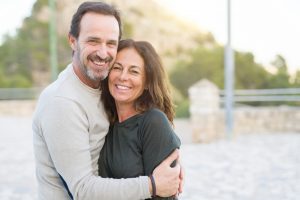 It can be hard to avoid feelings of discomfort when you experience tooth loss. In fact, you may find yourself struggling with unhappiness over the way you look while also experiencing the physical discomfort that people can endure when their smile is incomplete. Fortunately, the right prosthetic dental work can give you back your full smile while also making your bite function feel more natural. At our Sheridan, WY dentist's office, we are prepared to help individuals who are in need of replacements for lost teeth. We can provide a permanent appliance in the form of a dental bridge, or with a dental implant that holds a restoration in position.
Prosthetic Dental Work Provides Cosmetic And Oral Health Benefits
There are several reasons to make plans to receive a dental prosthetic after losing even one tooth. Because some teeth are simply more difficult to see than others, tooth loss can have varying degrees of impact on the way someone looks. What should be noted is that even tooth loss that is difficult to observe can have several negative impacts. You can find that biting and chewing are more difficult, which can raise your risk for TMJ disorder. You can also experience difficulties with further tooth loss, as teeth at either side of a gap are more likely to shift without their neighbor's support.
Receiving A Custom Dental Bridge To Close A Smile Gap
A dental bridge is an appliance that features at least one pontic, or replacement tooth, and a pair of dental crowns. The crowns are tasked with keeping the bridge secure – after being placed over the teeth surrounding a gap, they essentially set the bridge permanently in position. This arrangement is secure enough to let you bite, chew, and speak without worrying that it might slip or loosen over time. Because the procedure only requires the placement of dental crowns, this gives us the ability to restore a person's smile with a permanent appliance without oral surgery.
Have A Dental Implant Put In Place To Hold A Restoration
When a dental implant is put in place to hold a restoration, you can have more than just support for your smile and bite. The presence of the implant actually benefits your jawbone over time, because it stimulates the bone and helps it remain healthy. That support stops the deterioration of the jaw that can affect people after tooth loss. Dental implants also make it possible to secure a restoration without interfering with neighboring teeth.
Talk To Your Sheridan, WY Dentist's Office About Treatment For Tooth Loss
Are you tired of living with an incomplete smile? If so, you can meet with Grinnell Street Dental to learn what the right prosthetic appliance can do for you! To find out more, call our dental office in Sheridan, WY at 307-672-7567.