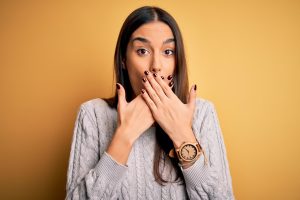 Many people who work to protect their teeth from harm will still have at least one cavity in their lifetime. When decay becomes a problem, you should see to it that the matter is dealt with as soon as possible. Giving the cavity time to grow means letting more of your tooth structure suffer permanent damage, which can eventually affect how your dentist must approach restorative dental treatment. At our Sheridan, WY dentist's office, patients who need to be treated for cavities can have their oral health restored with a lifelike dental filling or dental crown. By using materials that imitate healthy enamel, we can make sure that you complete treatment with sustained confidence in your appearance as well as a properly restored tooth!
A Cavity Can Lead To More Than Just A Toothache
How much harm can a cavity ultimately do? You should be aware that the problem can lead to more than just a persistent toothache. As decay continues to spread, more of the tooth structure will experience permanent damage. In time, that damage can become so serious that a dental filling is no longer capable of protecting the tooth. Because bacteria can eventually enter the tooth and attack the living tissues within, it can cause discomfort as well as sensitivity. If you keep putting off treatment at this point, the growth and movement of bacteria can result in microbes moving through a tooth's roots and attacking new areas. When damage is severe enough, there can be no way to save the tooth, which means the restoration of your smile can require prosthetic dental work.
What Will It Take To Restore A Tooth When A Cavity Forms?
The amount of work needed to restore a tooth will vary during cavity treatment. If decay is identified and treated in time, the work involved can end with the removal of damaged tissues and the placement of a dental filling. If there is too much damage to make a filling effective at protecting the tooth, we can instead plan the placement of a dental crown. While other practices can ask you to come back for a subsequent visit to receive your custom crown, we have technology that makes the same-day restoration of your tooth possible.
Tips For Avoiding Future Cavities
What can you do to make sure that your last cavity is truly the last one you have to have treated? Take care to improve your daily oral hygiene routine. If you are not doing so already, make sure to brush for at least two minutes, and take care to floss daily. You should also stay consistent with your dental checkups, because these visits include cleanings that remove harmful tartar buildup.
Talk To Your Sheridan, WY Dentist's Office About Treatment For Tooth Decay
Our Sheridan, WY dentist's office is prepared to help patients deal with tooth decay! If you need to schedule treatment, or if you want to plan a checkup to ensure that your smile is in good health, contact Grinnell Street Dental by calling 307-672-7567.