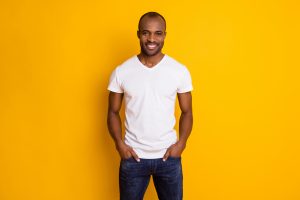 Teeth can gradually become worn down over time, a problem that can cause your confidence in your smile to suffer. What should you do about this issue? The right treatment can depend on just how severe the issue is, and how it might have impacted your dental health. At our Sheridan, WY dentist's office, patients who are bothered by misshapen, worn, or damaged teeth can learn about their different options for restoring those teeth. Sometimes, a dental crown will be needed to make sure that the tooth is properly restored. However, there are times when cosmetic dental work can be enough to address these concerns.
Has The Condition Of Your Smile Changed Over Time?
While injuries can certainly change the condition of a tooth, people also experience slow changes due to the repeated friction of biting and chewing. If you have difficulties with teeth grinding, wear and tear can occur at a faster rate. While these changes are often hard to notice, they can become more pronounced, leaving you with reduced confidence in your smile. Fortunately, a procedure to restore teeth that look worn, misshapen, or otherwise flawed can lead to improvements in a short time.
Different Treatment Approaches Can Improve The Shape, Size, And Color Of Teeth
Upon examining your teeth, your dentist can determine whether worn teeth might benefit more from the placement of dental crowns, or if cosmetic dentistry is effective enough at protecting your smile. Through the use of crowns, teeth that are vulnerable can be restored so that they look healthy and attractive. They also enjoy functional support that will help them stay healthy as you continue to bite and chew with them. If your wear and tear has not affected the quality of your bite or oral health, porcelain veneers or a bonding procedure can be beneficial. Bonding will not use a restoration, instead relying on a resin material to cover damages, changes in shape and size, and discoloration. You can also discuss the placement of porcelain veneers, which will cover the fronts of teeth but leave your remaining tooth structure alone.
Has Your Smile Been Hurt By Teeth Grinding Issues?
How can teeth grinding impact your life? In time, the problem can wear down your enamel and change your smile. It also causes friction that can lead to the onset of TMJ disorder. Patients who are dealing with jaw pain, stiffness, headaches, or neck pains can meet with us to discuss the benefits of using an appliance to ease jaw tension.
Talk To Your Sheridan, WY Dentist's Office About Restoring Worn Or Misshapen Teeth
At Grinnell Street Dental, patients bothered by worn or misshapen teeth can learn about different treatment options available to them. If you would like to find out more, you can reach our dental practice in Sheridan, WY by calling 307-672-7567.