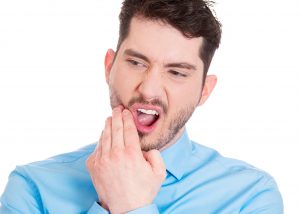 A cold drink can be a refreshing way to fight the summer heat, but people with dental sensitivity can find the experience uncomfortable. Sensitivity issues can make it hard for people to enjoy hot and cold items, and may also affect someone's experience with sweets. For some, sensitivity issues can make every meal, and every day, less pleasant and more frustrating. So why are you struggling with this, and what can be done about it? There are several problems that lead to experiences with sensitivity. While some can be a consequence of natural enamel erosion or a change in your gum line, you can also struggle because of dental decay. Our Sheridan, WY dentist's office is prepared to help you identify why you are experiencing troubles, and we can recommend treatment to help you.
What Issues Lead To Dental Sensitivity?
There are several issues that can lead to a person struggling with dental sensitivity. You may have a problem because receding gum tissues have exposed portions of your teeth that are naturally vulnerable. It is also possible that your struggles are related to gradual enamel erosion. With that said, you should be aware that some problems with sensitivity are connected to dental decay. If this is the case, cavity treatment can be necessary before the problem is something you can put behind you.
Dealing With Cavity-Related Sensitivity Issues
If your sensitivity is related to a cavity, the problem can actually worsen until you have treatment. By the time you have issues with discomfort, decay may be too severe for a dental filling. If this is the case, your dentist can recommend the placement of a dental crown to keep you safe. Crowns are made to fit over teeth and cap them. When this is done, it will effectively keep future infections from occurring, protect the tooth from physical damage, and help you bite and chew without discomfort. Our practice actually uses CEREC technology to craft crowns, so this treatment can be completed in just one day!
Stay Informed About Your Dental Health Through Regular Checkups
At your regular dental exams, you receive updates about the state of your teeth and gums. Checkups can lead to the early detection and treatment of problems before they start to affect your quality of life. In addition to helping you deal with cavities, we can recommend treatment if you are struggling with TMJ-related pains, or if you are struggling with an embarrassing cold sore!
Talk To Your Sheridan, WY Dentist's Office About Dental Sensitivity
At our Sheridan, WY dentist's office, patients who grow frustrated by dental sensitivity can discuss the problem with their dentist, and learn what can be done to put the matter behind them. To find out more about our services, please contact Grinnell Street Dental in Sheridan, WY by calling 307-672-7567.