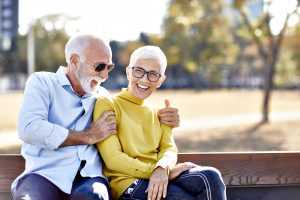 Once you lose a tooth, you can find that your confidence is shaken. You can also find that tasks like eating and speaking are more difficult, which can lead to further negative feelings. Fortunately, these issues can be addressed through the placement of a dental prosthetic. A custom replacement tooth allows you to close a gap in your teeth and restore the quality of your smile. When your prosthetic has the support of a dental implant, it can also help you return to biting and chewing movements that feel natural and comfortable! At our Sheridan, WY dentist's office, we are prepared to help patients take care of their incomplete smile. In addition to offering restorations with implant-held appliances, we can also provide secure dental bridges.
How Much Can A Dental Prosthetic Really Do For You?
While it can be exciting to once again have a full smile, you should know that a prosthetic is capable of offering more than just a cosmetic smile improvement. You can have an implant-held restoration put in place to aid you with your routine dental functions like biting and chewing. An implant also helps you by preventing problems with jawbone deterioration, a concern that worsens over time after tooth loss has occurred.
Receiving A Dental Implant To Hold Your Restoration
In order to hold your replacement tooth in place, a biocompatible titanium implant will be set directly into your jawbone. Before this occurs, you can meet with your dentist to discuss the procedure, and to undergo an evaluation that helps plan a successful treatment. In the time between the implant placement and the setting of your custom restoration, your jawbone can actually fuse with the implant to provide a remarkable degree of support. If you are undergoing treatment to replace several teeth, we can discuss the use of one or more implants to hold a custom dental bridge.
Dental Bridges Can Be Permanently Placed Without Oral Surgery
A dental bridge can be permanently placed without the need to secure a dental implant. Instead, a custom appliance can be created that uses a pair of crowns, placed on surrounding teeth, to hold the prosthetic. This support will allow you to regain confidence in your bite, and it can ensure the appliance stays in position and continues to look natural. The restoration of your bite function can make you more comfortable throughout the day, as you become less susceptible to problems with TMJ disorder.
Talk To Your Sheridan, WY Dentist's Office About Receiving An Implant-Held Restoration
Our Sheridan, WY dentist's office is prepared to help patients who are ready to have their full smile restored. If you have questions about our services, or if you would like to learn more about dental implants, please contact Grinnell Street Dental by calling 307-672-7567.