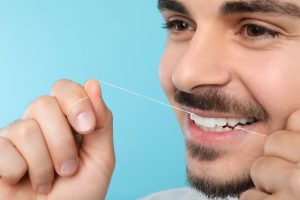 How much effort should you really put into protecting yourself against gum disease? If you have not committed to a thorough oral hygiene routine that protects your teeth and gums, you can put your oral health and appearance at risk. The health of your gums can be maintained through good brushing and flossing habits. If you are not taking care to defend these tissues, you can be more vulnerable to problems with gum line recession, and later with potential tooth loss! At our Sheridan, WY dentist's office, patients who are worried about the health of their teeth and gums can look forward to thorough support against potential problems. In between your appointments, take care to see that every area of your smile is thoroughly cleaned. This includes the spaces between your teeth, which you should take care of by flossing on a daily basis.
How Worried Should You Be About Gum Disease?
If you think you might be developing a problem with gingivitis, you should not take the matter lightly. At this stage, it is possible for you to reverse the effects of an infection through daily care, as well as through preventive care with your dentist. If the infection worsens in time, it can become difficult to manage. An advanced infection makes you vulnerable to tooth loss because bacteria can cause inflammation and tissue damage that leaves teeth without support. Your infection can also lead to general health problems, as there is a potential for bacteria to spread further after accumulating beneath your gum line.
Fitting Flossing Into Your Preventive Care Routine
Many people who experience problems with gum disease struggle because they have not been flossing on a daily basis. As a result, bacteria buildup between their teeth can lead to the infiltration of bacteria below their gum line. You should take time to floss every day in order to fight these harmful agents, and to remove food particles that you may have picked up over the course of your day.
Other Steps You Can Take To Protect Your Oral Health
By brushing and flossing thoroughly, you are less likely to experience problems with gingivitis, and you are less likely to experience troubles with cavities that require dental fillings or dental crowns. As important as it is to thoroughly clean your teeth, you should also protect them by sticking to a diet that is low in sugar. One quick way to cut sugar is to replace soft drinks with water at your meals, as this reduces your sugar intake and also removes an acidic beverage from your daily life!
Our Sheridan, WY Dentist Helps Patients Avoid Problems With Tooth Decay And Gum Disease
Our Sheridan, WY dentist's office is prepared to help patients fight active problems with tooth decay and gum disease, and we can also provide guidance to help you avoid future issues. Find out more about our services by calling Grinnell Street Dental at 307-672-7567.