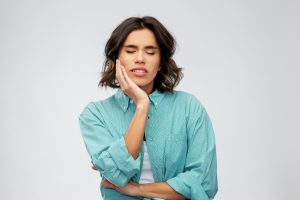 The health of your jaw, and your ability to bite and chew without discomfort, can have significant impact on your daily life. TMJ disorder is a term used to discuss problems that impact a person's jaw health and movement. If you struggle with this issue, you can suffer an increase in headaches, and struggle with stiff or painful movement when you try to eat and speak. It can also lead to problems with teeth grinding and clenching, which can lead to more dental problems over time. Let your Sheridan, WY dentist's office know that you have begun to struggle with symptoms of TMJ disorder. A custom appliance can help you by relieving you of the tension currently making you uncomfortable. We can also look for other dental problems that have made you susceptible to this condition.
What Problems Contribute To Poor Bite Function?
People begin to experience problems with their bite for different reasons. Some people are not able to align their bite properly because of malocclusion. In other words, crooked teeth make it difficult for them to move their jaw in a way that minimizes tension. It is also possible for someone to develop TMJ disorder AFTER developing a teeth grinding habit, rather than having teeth grinding issues because of TMJ disorder. You may also have difficulties because a problem tooth has interfered with your ability to bite and chew in a way that feels natural to you.
How A Custom Appliance Reduces Pain From TMJ Disorder
By wearing a custom appliance designed for your smile, you can move your jaw into a position that eases tension over time. When worn at night, you will be able to hold your lower jaw in a position that eases stress from poor alignment. This can help you correct your bite function, hold your jaw in a less taxing position, and generally improve the quality of your daily life.
Take Care Of Dental Problems That Interfere With Your Ability To Bite And Chew
If any issues currently interfere with your ability to bite and chew, working on them can help you avoid future problems with TMJ disorder. Teeth that are too small or sensitive, or those that have been injured, can be restored with dental crowns that make them capable of supporting your bite. You can also discuss fixing malocclusion with Invisalign aligners in order to correct a bite made awkward by the positions of your teeth.
Bring Up Concerns About Your Bite At Your Sheridan, WY Dentist's Office
At our Sheridan, WY dentist's office, we are prepared to help patients who have frustrating problems with sensitivity and tension whenever they bite and chew. To find out more about our services, call Grinnell Street Dental at 307-672-7567.