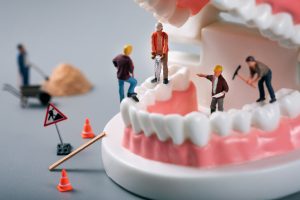 If you have lost confidence in your smile because of misshapen or damaged teeth, you should know that treatment can have lasting benefits. Even one flawed tooth is enough to create a problem with your appearance, as it can make your smile appear asymmetrical. At our Sheridan, WY dentist's office, we are prepared to help people who have experienced problems that have affected their smile, as well as those who have naturally occurring problems with teeth. It is important to make sure that a flawed tooth is able to support your bite. Problems with your bite function can lead to jaw pain, and also cause you to wear down other teeth. If necessary, a tooth can be protected with a dental crown made in our office.
Are You Tired Of Living With A Smile That Appears Unbalanced Or Unhealthy?
Even a minor flaw is enough to make a person self-conscious about their smile. One jagged tooth, or a tooth that appears to be broken or worn, can draw a frustrating amount of attention. With the right procedure, a tooth can be made to look healthy and attractive. A procedure can be completed in as little as one appointment, and it can have lasting benefits!
Restoring Teeth With Same-Day Dental Crowns
If you have to work around a particular tooth because of a problem with its shape or condition, the matter should note be taken lightly. A compromised bite puts stress on your jaw joints and muscles, which can build until you start to struggle with TMJ disorder. It can also cause you to rely too much on other teeth, which can become worn down and become more susceptible to damage. If you want to improve the appearance and function of a tooth, a custom dental crown can help you. With the CEREC technology in our office, we are actually able to have crowns ready for you in as little as one appointment,
Is Cosmetic Work An Effective Solution For Your Problem?
If a problem with a tooth is affecting your appearance but not your bite function or oral health, then cosmetic dental work can be effective at addressing your problems. Through bonding treatments and the placement of porcelain veneers, it is possible to discreetly change the shape, size, and color of teeth while minimizing changes to the actual tooth structure.
Talk To Your Sheridan, WY Dentist's Office About Restoring Damaged Or Misshapen Teeth
At our Sheridan, WY dentist's office, patients who are bothered by their appearance because of damaged or misshapen teeth can reach out to discuss their treatment options. To find out more about our services, or to learn more about our practice, please call Grinnell Street Dental at 307-672-7567.