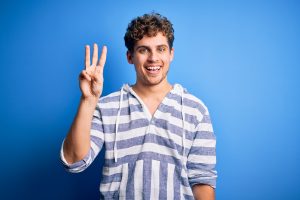 You can have a hard time feeling social, or confident, if you are aware that you have a problem with bad breath. Sure, it can happen to just about anyone who happened to eat a meal with strong flavors or odors, but it can be a sign of trouble if it is a recurring issue, or one that arises without an obvious cause. There are several oral health concerns that can be linked to bad breath. Our Sheridan, WY dentist's office has helped many people who struggled with this problem. When your issue is identified, it can be addressed so that the matter no longer plagues your confidence!
1. Poor Oral Hygiene Habits
One thing to know is that without the right oral hygiene habits, bad breath can be tough to beat. This is because you can leave behind food particles and bacteria that cause unpleasant scents to emanate from your mouth. Fortunately, this is something that you can address on your own. Make sure you are brushing your teeth for at least two minutes each day, and that you are targeting spaces between your teeth by flossing.
2. An Untreated Problem With Gum Disease
Gum disease can cause bad breath as well as issues with periodontal bleeding, swelling of gum tissues, and even problems with gum line recession. When you observe signs of gum disease, you have more to worry about than just bad breath. You also need to be aware that the infection will worsen in time if it is not dealt with properly. Eventually, the condition can put you at risk for tooth loss, and you can experience complications due to the spread of periodontal bacteria to other parts of your body.
3. An Active Issue With Tooth Decay
If tooth decay is damaging a tooth, an issue with bad breath can arise. Cavities will worsen in time if there is no work done to restore your tooth structure. With dental fillings, it is possible to cover the damaged area while leaving the rest of your enamel alone. Fillings can be made to match your natural tooth structure, so this will not change the way you look. For larger cavities, a dental crown can be put in place.
Our Sheridan, WY Dentist Can Help Patients Who Feel Embarrassed About Bad Breath
Your Sheridan, WY dentist's office has helped patients deal with many different problems. If you are struggling with bad breath, we can determine what is causing this issue, and also find a lasting solution! You can turn to our practice for a range of preventive, restorative, and even cosmetic concerns. In order to set up an appointment, please reach out to Grinnell Street Dental in Sheridan, WY by calling 307-672-7567.