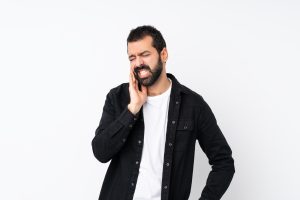 If you choose to simply live with jaw pain, you can come to realize that the time you spend biting, chewing, and even speaking can become deeply unpleasant. When issues affect your joints and muscles to cause TMJ disorder, you can start to experience problems with more than just basic jaw movements. You may also have to deal with a teeth grinding problem while spending more time struggling with persistent headaches. Our Sheridan, WY dentist's office can help you move past your problems through the appropriate TMJ treatment. With a custom appliance, we can actually take on issues with poor jaw alignment and stress that cause persistent discomfort.
TMJ Disorder Can Become A Tough Problem To Ignore
Until you start to struggle with pain and stiffness from TMJ disorder, you may have little idea just how much time you spend moving your jaw! This is a problem that can affect you throughout the day, and significantly impact your overall quality of life. If the issues with your jaw start to trigger headaches, it may be difficult for you to make it through your typical routine. The problem can worsen further if you have problems with teeth grinding or clenching, as you can do dental damage that hurts the quality of your smile, and even threatens your oral health!
Is It Difficult For You To Bite And Chew In A Way That Feels Natural?
Certain problems like malocclusion and past dental injuries may make it difficult for someone to bite and chew in a way that feels natural. If you are in this situation, letting these matters go unresolved will raise your risk for developing TMJ disorder. If you have problems putting pressure on a particular tooth, it may require treatment from your dentist. Once a dental crown is placed, it can provide support for your bite function so that this is no longer a concern for you. If you need to do something about the alignment of your teeth, we can discuss using clear aligners to help you.
Using A Custom Appliance To Take On Your Jaw Problems
A custom appliance designed to hold your jaw in a relaxed position can help you move away form your ongoing troubles with TMJ disorder. Worn at night, your guard positions your jaw in a way that reduces tension placed on the joints and muscles. That relaxing effect can help you over time to stop struggling with problems whenever you bite, chew, and speak, so you can boost your overall quality of life!
Tell Your Sheridan, WY Dentist About Your Troubles With Jaw Pain
At our Sheridan, WY dentist's office, patients who are struggling with jaw pain can look forward to services that improve their quality of life. If you would like to find out more about TMJ treatment, or discuss another oral health service with us, call Grinnell Street Dental at 307-672-7567.