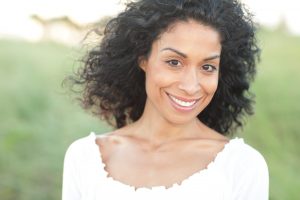 When a cavity has formed on a person's tooth, there is no way for them to fully recover without having a permanent restoration put in place. Restorations are used during these treatments because the damage done by a cavity causes irreversible harm to your tooth structure. At our Sheridan, WY dentist's office, we can address this damage without causing changes to your appearance by using metal-free dental fillings. While fillings made from metal have helped many people keep their teeth safe, they can be difficult to ignore when placed in visible parts of a person's smile. Modern restorations made from composite resin can offer lasting support while also making sure that your tooth looks the way it did before a cavity damaged it!
Rely On Support From A Discreet Filling
A dental filling made from resin material offers functional support as well as the assurance that your tooth's appearance will not change due to cavity treatment. Once the restoration is in place, your tooth will enjoy the functional support to make it safe for you to bite and chew without difficulty. That support is important, as it ensures that you will be able to bite and chew without difficulties. Problems with your bite function can include pain due to TMJ disorder, as well as excessive wear and tear on other teeth.
Your Composite Resin Restoration Can Bond With Your Enamel
While metal is strong enough to provide lasting support for your tooth, a metal filling may become less dependable over time, and may not fit as securely as it once did. Metal can react to hot and cold temperatures by expanding and constricting, which can put its stability at risk. In time, a small space may open between the restoration and your enamel, which can become a gathering point for bacteria. Your composite resin filling will bond directly with your enamel and prevent the creation of space, and ensuring lasting support.
We Also Offer Lifelike Dental Crowns!
Dental fillings are often effective at taking care of people who need cavities treated, but decay can sometimes do more damage than a filling can be responsible for addressing. In these situations, your dentist can recommend the placement of a dental crown instead. At our practice, we use CEREC technology to create dental crowns in as little as one day, which means that we can make sure your tooth is restored promptly. These restorations, like composite resin fillings, can closely match the appearance of healthy dental enamel.
Talk To Your Sheridan, WY Dentist About Cavity Treatment
Our Sheridan, WY dentist's office has experience caring for patients who require treatment for a cavity. In addition to making sure your tooth remains safe, we can use modern materials to provide restorations that preserve your appearance! To find out more about our services, call Grinnell Street Dental at 307-672-7567.