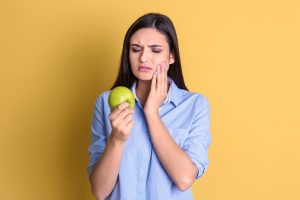 Are you currently avoiding certain foods or beverages because they cause problems for your sensitive teeth? Dental sensitivity can be more than just a nuisance – it may be a symptom letting you know that there is a problem with your smile your dentist should address. Even small modifications in your diet should be regarded as a possible warning sign that something is amiss. Our Sheridan, WY dentist's office has helped people deal with different issues that can cause teeth to feel unusually sensitive or sore. Once the issue responsible for your discomfort is identified, we can discuss treatment to put dental sensitivity behind you.
Different Dental Issues Can Cause Problems With Tooth Sensitivity
Sensitive teeth can react badly when exposed to products that are particularly hot or cold, they may make it difficult to apply bite pressure, or they could make it uncomfortable for you to enjoy sweets. Just as this problem can be expressed in different ways, it can be caused by different concerns. Dental wear and tear, periodontal problems, and tooth decay can all create discomfort. You could also be feeling the effects of teeth grinding and clenching, which can lead to pain in your face, head, and jaw as well as problems with sensitivity.
Is Your Sensitivity Linked To Problems With Your Jaw?
Do you have problems with your bite movement in addition to concerns about dental sensitivity? Has it become difficult for you to fully open or close your mouth? Are you experiencing headaches more often? If sensitivity is an issue along with these other symptoms, it could be due to TMJ disorder. This problem can lead to stiff or painful jaw movement, headaches, and destructive teeth grinding. If your problems do include teeth grinding, you can experience related concerns with enamel erosion and gum line recession, which can cause more problems with sensitive teeth.
A Sensitive Or Sore Tooth May Be Infected – We Can Help!
A tooth that aches or feels sensitive could be experiencing problems because of a worsening cavity. Over time, decay can work through the outer layers of a tooth before exposing you to an internal infection. When this happens, it is possible for the health of your tooth to be impacted so seriously that there is no way to save it. After dealing with your infection, your dentist can provide a custom, same-day dental crown to protect your tooth!
Your Sheridan, WY Dentist's Office Can Help You Deal With Dental Sensitivity
Your Sheridan, WY dentists have experience working with patients who begin to struggle with dental sensitivity. After identifying an issue that may be responsible for your discomfort, we can arrange treatment to improve your comfort level and quality of life. To find out more, please call Grinnell Street Dental at 307-672-7567.