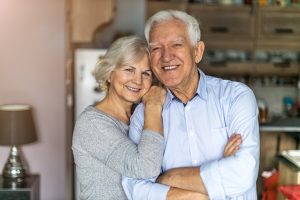 If you have been struggling to adjust to life with an incomplete smile, you should know that a permanent dental prosthetic can help you do more than regain confidence in your appearance. Our Sheridan, WY dentist's office is able to provide dental restorations that match the appearance of your natural teeth, which can help you feel better about your smile. These restorations can also help you bite and chew with greater comfort, as they can be permanently secured. With dental bridges, it is possible to hold a replacement in place without oral surgery. If you prefer to have a dental implant-held restoration, you can enjoy lasting support without having to modify healthy teeth. Both of these options provide you with a secure restoration that makes biting, chewing, and speaking less complicated.
Tooth Loss Can Be More Than A Cosmetic Issue
Tooth loss that people can observe may leave you embarrassed. After all, this problem can make you look older, and it can give you a less healthy look. With that said, even if your tooth loss is not a cosmetic concern, it can impact your quality of life in concerning ways. You can have a harder time biting and chewing food because you have to work around a gap. Over time, the teeth at either side of that gap can loosen, and are more likely to be lost. This unresolved issue also puts you at greater risk for problems with your jaw health, as your flawed bite can start to hurt the joints and muscles.
Replace A Lost Tooth With A Custom Dental Bridge
A dental bridge is held in place thanks to a pair of dental crowns. The crowns are secured to teeth on either side of a gap, and they ensure that a pontic – the actual replacement tooth – remains secure. A bridge is custom-made to provide a comfortable fit, and it can be designed to replace multiple adjacent teeth. This can be a good treatment option for someone who is not comfortable with oral surgery, as the procedure only requires the placement of dental crowns.
Enjoy Lasting Support From An Implant-Held Prosthetic
Dental implants have made it possible to permanently support a prosthetic tooth without the need to modify neighboring teeth. The implant itself is not your restoration – it is inserted into your jawbone in the space where your tooth's roots used to reside. After the placement is arranged, you will need to give time for your jaw to heal – in that time, the bone will fuse to the post. At the appropriate time, you can receive a custom, lifelike restoration that makes your smile whole again!
Your Sheridan, WY Dentist's Office Can Provide Permanent Prosthetic Restorations
Our Sheridan, WY dentist's office can help patients restore their dental health when they have damaged, infected, or even missing teeth. To find out more, call Grinnell Street Dental at 307-672-7567.