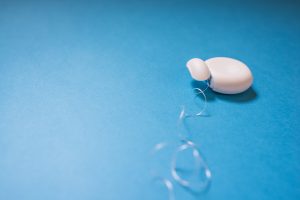 Are you as safe from cavities as you could be, or as you should be? The answer to this question can depend on several factors. Your brushing habits obviously matter, as well as your diet choices, and even the natural strength of your enamel. You should also remember that flossing has a role to play in preventing oral health problems. Every time you floss, you remove the remnants of food as well as oral bacteria, which can build up in the spaces between your teeth. If these areas are not being tended to regularly, your risk for tooth decay and gum disease can rise. Our Sheridan, WY dentist's office is here to help when problems occur, but we encourage our patients to take steps to make sure they limit their risks for oral health trouble by sticking to smart habits and behaviors.
Is Your Approach To Oral Hygiene Appropriately Thorough?
If you neglect to fully clean your smile, you become vulnerable to the buildup of bacteria that can turn into plaque, and eventually harden and form tartar. Tartar formation makes it difficult to prevent problems that might require dental fillings and dental crowns, as this substance will remain in place until a professional teeth cleaning is performed. Unfortunately, many people do not see flossing as an important part of their daily oral care routine. Those who do not do this on a daily basis can be more likely to have tartar deposits form, which means they can have a harder time preventing gum disease and tooth decay.
Tips To Help You Floss Effectively
One thing to remember is that flossing should be part of a routine, not just something that you should do if you feel any bits of food wedged between teeth. Flossing before bed each night can help you clear away any debris that might have gathered over the course of your day, and ensure bacteria are not able to feed on them. If you want your routine to protect your gums, bring the floss string all the way down to your gum line. If you experience bleeding or sensitivity, it can be a sign that gingivitis has already become an issue.
Smart Daily Behaviors Can Keep You Out Of Oral Health Trouble
Generally speaking, you should have good daily behaviors in place if you want to avoid problems with your oral health. Even if you feel confident in your current routine because you have not had issues in the past, remember that changes in your diet, and the erosion of your enamel, can impact your relative risks over time. In other words, not flossing may not have hurt you in the past, but it can easily become a problem in your future.
Our Sherdian, WY Dentist's Office Provides Dedicated Oral Health Support
Access to quality oral health care, combined with good habits at home, can help you keep your smile in great shape. To learn how Grinnell Street Dental can help you take care of your smile, call our Sheridan, WY dentist's office at 307-672-7567.