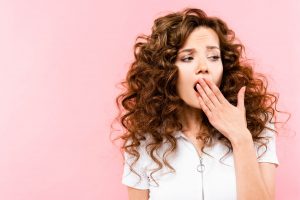 If you are having a hard time falling asleep at night, or if you give yourself too little time to sleep before you have to wake, you may start to experience issues with your energy levels and mood. Sleep deprivation can lead to irritability, fatigue, issues with focus, and – if the problem goes on for a continued period – it may start to affect your physical health. People who struggle with periods of sleep deprivation can sometimes have a harder time taking care of their teeth. This can be due to the way the issue affects your routine, or because of an increased consumption of caffeine. Our Sheridan, WY dentist's office encourages our patients to keep up with good dental habits under all circumstances. It is important to recognize when your physical or emotional state might affect your ability to do this, and to make sure you stick with the right behaviors.
Do You Practice Good Oral Hygiene While Fatigued?
How likely are you to press on the snooze button of your alarm when you feel especially tired? This can feel like a good idea in bed, but it can cut down on the time you have to start your day. As a result, you may not leave yourself enough time to properly clean your teeth. If you are not feeling that concerned about one morning without good oral hygiene, think about the number of times you may have done this. You should also think about the way minor disruptions in your routine can lead to the buildup of plaque and tartar, which can lead to more risk for cavity problems that call for dental fillings and dental crowns.
Consuming More Caffeine During The Day Can Have Consequences
If you respond to fatigue by consuming more caffeine, your short-term solution may lead to problems with your smile later. How much sugar is in your favorite caffeinated beverage? If the nutritional label contains a concerning number, your risk for cavities can be higher than you like. You should be aware that drinking more coffee can lead to more teeth stains.
Issues With Your General Well-Being May Impact Your Smile Health
When stress, fatigue, anxiety, and other physical or emotional states affect a person, they can intrude on their smile health in a number of ways. Some people respond to these experiences by changing their diet, choosing unhealthy comfort foods over items that can be better for their dental and physical health. Changes can also affect how consistent you are with brushing and flossing. Stress and anxiety may affect your smile negatively because they lead to teeth grinding, which can lead to painful TMJ disorder as well as dental damage.
Your Sheridan, WY Dentist's Office Can Help You Preserve Your Healthy Smile
Our Sheridan, WY dentist's office is proud to have helped many people in our community manage their dental health. To learn more about our practice, call Grinnell Street Dental at 307-672-7567.