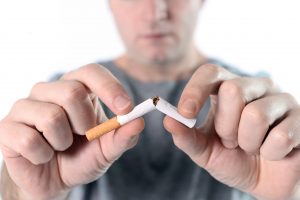 If you want to take better care of your teeth and gums, and also preserve the quality of your smile, you should be aware of what tobacco use can do to your oral health. Products like cigarettes and smokeless tobacco can lead to an increased risk for oral cancer, they can cause enamel stains, and they can make it harder for you to prevent common dental problems. By cutting these products out of your life, you can have an easier time maintaining your oral health. Our Sheridan, WY dentist's office has provided services to help patients deal with a range of oral health and cosmetic dental problems. We are also happy to provide guidance to our patients so that they are less likely to require these treatments in the future.
The Potential Effects Tobacco Can Have On Your Smile
Tobacco can create several different issues for a person's smile and oral health. Products that contain tobacco are capable of staining your teeth, leaving them with an unsightly yellowish tint. This can affect how other people perceive you, and it can prematurely age you. It may also become more difficult for you to avoid tooth decay and gum disease because of your habit. These factors can complicate your relationship with your smile, even if you are taking care to brush and floss regularly.
Tobacco Use May Put You At Greater Risk For Periodontal Disease
Tobacco's potential for causing gum disease is not something that you should take lightly. If the problem develops and is not managed in time, your infection can lead to the destruction of tissues that hold teeth in place. As a result, you have a greater chance of experiencing tooth loss. Gum disease can also lead to the recession of your gum line, which can cause problems for your smile while also making you more susceptible to dental sensitivity.
A Healthy Smile Can Have Important Benefits For Your Overall Health
The overall care you provide for your smile can have more value than you realize. Unresolved tooth decay can lead to problems with pain, swelling, and may even lead to further health issues if bacteria that attack a tooth spread to new areas of your body. It is also possible for periodontal bacteria to spread when you have problems with gum disease. This can make you more susceptible to potentially serious threats, like gum disease.
Your Sheridan, WY Dentist Can Help You Maintain Good Oral Health
At our Sheridan, WY dentist's office, we can help you take care of your smile by providing in-office care as well as guidance for better behaviors at home. When you recognize and address issues that affect your oral health, you can have an easier time avoiding different dental problems! For more information, call Grinnell Street Dental at 307-672-7567.