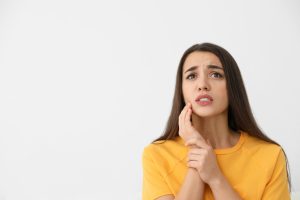 How often do you find yourself choosing to ignore a problem, rather than trying to resolve it? When it comes to your oral health, the impulse to disregard signs of trouble can lead to unfortunate consequences. A person's teeth are not able to heal in the way that the body typically can, which is why permanent dental restorations have to be put in place when a cavity forms. If you are doing your best to ignore a toothache that has become too uncomfortable to disregard, it can be a warning that your tooth is infected and needs to be treated. Our Sheridan, WY dentist's office is prepared to help you in this situation, which means you can finally move on from your discomfort.
Your Discomfort Could Be A Sign Something Is Really Wrong With Your Tooth
A toothache that has no obvious cause may be due to an infection. Infections can occur when a cavity goes untreated, or when an injury damages your enamel and makes you vulnerable to infiltration from oral bacteria. It should be noted that without proper care, it is possible for an infection to cost you your tooth.
Contacting Your Dentist's Office About Pain
Reach out to your dentist if you have dental pain that is difficult to endure. After reviewing your symptoms, we can talk to you about scheduling treatment. In the process of restoring your tooth, we can remove infected tissues before providing you with a restoration to provide lasting support. Because an infection can cause more damage than a dental filling is able to address, you can expect to receive a dental crown.
Not all forms of dental pain are focused on a particular tooth. If you have ongoing problems with chronic pain that affects your jaw, your face, or even your neck and head, it may be related to TMJ disorder. This is a problem with your jaw joints and muscles that can require professional care to address.
We Can Provide A Same-Day Crown To Restore An Unhealthy Tooth
Thanks to the CEREC technology at our practice, our patients can receive dental crowns in just one day! Other locations can require multiple appointments, as they receive custom restorations from a third party dental lab. Our ability to provide one-visit dental crowns can make your oral health care experience more convenient, and still produce long-term benefits!
Your Sheridan, WY Dentist Can Help You If You Struggle With A Toothache
Grinnell Street Dental in Sheridan, WY is prepared to help patients who develop painful toothaches, and require treatment. After restoring your tooth by addressing a problem like infection, we can provide you with a custom dental crown to make sure that your tooth stays safe. To find out more, please call Grinnell Street Dental at 307-672-7567.