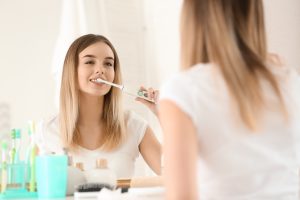 What benefits can a thorough oral hygiene routine really provide? There are obvious reasons to keep up with good brushing and flossing habits – you can avoid cavities, remove particles that might stain your teeth, and defend yourself against gingivitis. What you might not realize is the role that oral health care can play in your overall health. When you clean your teeth, you remove harmful bacteria that can affect your general well-being. By better protecting your smile, you also avoid complications with dental health matters that might hurt your general health. You can talk with your Sheridan, WY dentist about the importance of oral health to your physical health during a routine dental appointment.
The General Health Benefits Of Good Oral Hygiene
Many forms of bacteria that accumulate in our mouths do not cause problems, but there are types that are harmful to us when they are left to gather. By brushing and flossing on a consistent basis, you can remove those bacteria before they can do any real harm to your oral health. Unfortunately, people sometimes fail to notice the shortcomings in their brushing and flossing routines. As a result, you can be more vulnerable to tooth decay or gum disease. If bacteria in your mouth have the opportunity to travel to different parts of your body, you can experience additional health issues.
Make Sure Your Daily Brushing And Flossing Efforts Are Effective
By brushing at least twice a day, and flossing at least one time a day, you can stop harmful microbes from gathering and accumulating on your teeth. When flossing, make sure you fully clean the spaces between teeth and do not rely solely on a back-and-forth motion while working your floss string. To improve your brushing routine, make sure you are following these steps:
Take at least two minutes to make sure you clean every space of your smile
Replace a toothbrush if the bristles begin to look worn down, or if you have used it for more than three months
Confirm that you are only using toothpaste that contains fluoride, and has an ADA seal of approval
Brush at least two times a day
Other Actions You Can Take To Maintain Your Oral Health
If you want to further protect your smile, make sure you consider the role your diet can have on your cavity risk. People who take the time to brush and floss can still experience decay if they are consuming too much sugar on a typical day. You should also take care to minimize how many acidic products you consume, as these items can soften enamel. In addition to making you more susceptible to cavities, weakened enamel can make it harder for you to prevent teeth stains from forming.
Your Sheridan, WY Dentist Can Help You Maintain Your Oral Hygiene
Our Sheridan, WY dentist's office is prepared to help you take care of your teeth, and we can take on active oral health problems that require attention. To find out more about how we can take care of you, call Grinnell Street Dental at 307-672-7567.