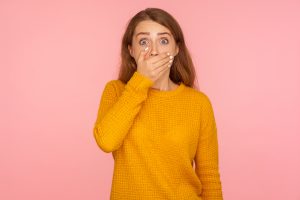 Even if the problem is not serious enough to affect your oral health, a tooth injury can be a permanent concern for your smile. Injuries can leave a person with teeth that look jagged or misshapen, or affected by a visible chip or crack that mars their overall appearance. What can be done in this situation? At our Sheridan, WY dentist's office, we are ready to take on a problem with cosmetic dental damage. Tooth bonding treatments and porcelain veneers enable us to restore a person's smile with minimal changes to their tooth structure. As a result, they can feel confident in their smile again after a relatively short and conservative treatment!
It Can Be Hard To Ignore An Injured Tooth
It may not hurt, but an injured tooth can still make you uncomfortable. Knowing that you are exposing a tooth that is chipped, cracked, discolored, or otherwise flawed when you speak and smile can make you self-conscious. If there is damage to your enamel, you can understandably worry that the condition of your tooth could worsen over time. You should bring a dental injury to your dentist's attention even if you are not uncomfortable. If there is not a need for restorative treatment, we can still talk with you about taking care of its flawed appearance through cosmetic work.
Undergoing Cosmetic Treatment To Restore Your Appearance
Porcelain veneers and tooth bonding can lead to smile improvements after a dental injury. Veneers are carefully-crafted restorations that are affixed to the fronts of your teeth. When placed, they give you coverage that can make a tooth look brighter, properly shaped, and generally more attractive than before. These porcelain shells require considerably less space than a dental crown, which covers all of your tooth, so they can minimize preparatory work. A bonding procedure will see your dentist apply composite resin to the surface of a damaged or misshapen tooth to improve its appearance. This process does not require any restorations, so it can limit changes to your tooth structure.
Arranging Restorative Dental Work For Your Tooth
If the health of your tooth is affected by an injury, or if there is a fear that damage could worsen from repeated biting and chewing pressures, we can talk to you about restoring it with a custom dental crown. Our office possesses CEREC technology that gives us everything needed to produce your custom restoration in one appointment. Because of this, we are able to help patients restore a tooth in less time than other dental practices can require!
Your Sheridan, WY Dentist Can Restore Your Injured Tooth
At our Sheridan, WY dentist's office, we are prepared to take on problems with your injured tooth. Through the appropriate procedure, we can improve your smile so that you no longer feel self-conscious because of visible trauma! To find out more, call Grinnell Street Dental today at 307-672-7567.