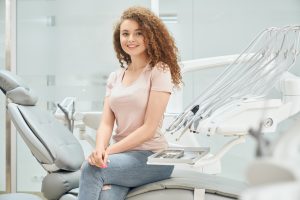 A problem with your dental health should receive your attention, and prompt care. At our Sheridan, WY dentist's office, we can help you take care of an injured or cavity-affected tooth by performing any restorative work that might be appropriate. In order to protect a tooth after treatment, we provide lifelike restorations that can allow you to bite and chew without worrying about hurting the tooth again. Many dental practices that place dental crowns for patients have to wait for a third party lab to actually produce the restoration for them. At our practice, we can actually shorten your treatment time by creating your dental crown in our office!
CEREC Technology Can Make Restorative Dental Work More Convenient
Thanks to CEREC technology, we have the technology required to plan, design, and actually craft your dental crown. Because of this, we can typically offer same-day treatment for a problem that calls for a crown's placement. This can be a relief to patients, as they can have a matter concerning their oral health fully resolved in less time. You can be happy to know that in addition to making sure your crown is the right shape and size, we can provide one that is the right color to be a good visual match.
When Is It Necessary To Restore A Tooth With A Crown?
A dental crown is not necessary in every situation where a patient requires restorative treatment. A dental filling is a more conservative restoration, as it can be put in place while preserving more of your healthy tooth structure. However, the dental filling may not do enough to protect your tooth structure if you have a larger cavity or more serious injury. In situations where more protection is required for a tooth, a dental crown can be used.
Other Lifelike Restorations We Can Provide For Our Patients
Our dental crowns are not the only lifelike restoration that we offer! The dental fillings we can place for tooth decay are made from a biocompatible resin that can imitate your healthy tooth structure. If you are interested in cosmetic dental work, we can place attractive, customized porcelain veneers on teeth to cover up damages, discoloration, and other issues.
Talk To Your Sheridan, WY Dentist About Receiving A Crown At Our Office
At our Sheridan, WY dentist's office, patients can count on us to provide restorative dental work that preserves their appearance. Thanks to CEREC technology, we can actually provide treatment with a dental crown in less time than many other practices – you can have your tooth restored in as little as one visit! If you have questions about our CEREC dental crowns, if you are worried about the health of your tooth, or if there are any other dental matters that you wish to address, please call Grinnell Street Dental at 307-672-7567.