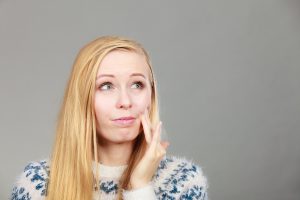 You should be concerned if you have a hard time biting and chewing without discomfort, or if you have a persistent pain in a tooth. Signs of poor dental health should be addressed, as a problem can grow worse over time if it is not treated by a dental professional. At our Sheridan, WY dentist's office, we can help you deal with problems that seem linked to your jaw, as well as issues of tooth sensitivity or pain. After a review, we can talk to you about why you are experiencing problems, and we can recommend an appropriate solution. Jaw problems are often linked to TMJ disorder, something we can address with a custom appliance. If you have dental pain or sensitivity, we can check to see if there is a problem with your tooth that might require a dental filling or dental crown.
Struggling With Jaw Pain? Talk To Your Dentist About TMJ Disorder
TMJ treatment can be called for if you are finding it difficult to move your jaw, or if you often feel discomfort while biting, chewing, and speaking. These problems can result when stress becomes an issue for your jaw, or whenever a problem affects the alignment of your joints. By providing you with a custom appliance to change the position of your jaw, we can start to alleviate the stress that has affected your quality of life. The appliance can gradually improve the way you hold your jaw, as well as your movement when you open and close your mouth.
Addressing Issues With Dental Sensitivity And Tooth Pain
There are several issues that can lead to general sensitivity, and your dentist can talk to you about options for relief after a study of your oral health. If the problem is focused on a particular tooth, you should know that it may be a symptom of an infection. Infections can occur if you have a cavity that has gone untreated, or if you have experienced a tooth injury. After restoring the tooth, we can place a custom restoration to keep it protected.
Regular Exams Help You Avoid Discomfort
General dental exams keep you updated about your smile health, so you can be warned if there are concerns over TMJ disorder or a tooth infection. By combining regular exams with smart care at home, you can reduce your risk for future problems. Of course, if you start to experience worrying issues in between appointments, you can reach out to us for an appointment to discuss the matter before your next planned visit.
Your Sheridan, WY Dentist Can Help You Address Dental Discomfort
At our Sheridan, WY dentist's office, patients who are worried about dental discomfort can come to us for support and treatment. After reviewing your smile and identifying the cause of your trouble, we can recommend the appropriate treatment to put the problem behind you. To find out more about what we can do for you, contact Grinnell Street Dental in Sheridan, WY by calling 307-672-7567.