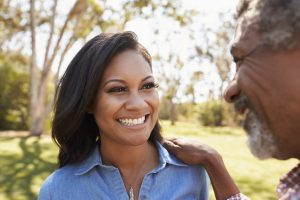 When you first look into a full-mouth reconstruction, the idea can be both exciting and intimidating. While it can be a relief to think that you can regain confidence in your smile, you may worry about how time-consuming or difficult the experience might be. At our Sheridan, WY dentist's office, individuals who might benefit from a full-mouth reconstruction can find that the process is easier to undergo than they expect. The process can begin with your dentist taking on the most serious oral health threats that affect you, but it can cover all concerns, including those issues that might call for cosmetic dentistry. At the end of your custom treatment plan, we can help you feel comfortable with the way you look, as well as the support you can expect from your bite function.
What Problems Currently Affect Your Smile?
If you have fallen out of the habit of visiting the dentist, several problems may have developed since your last appointment. If you frequently struggle with dental pain, it could be due to problems with TMJ disorder, as well as issues with dental decay. Tooth loss is another problem, one that can be particularly tough to ignore. You may also feel embarrassed by problems like wear and tear and enamel erosion, which can hurt the quality of your smile.
Planning Restorative Work To Address Oral Health Concerns
Problems that threaten your oral health and dental function are taken seriously at our practice, and we can make sure they are fully addressed during your full-mouth reconstruction. That can mean restoring teeth through work that relies on dental implant-held restorations, as well as caring for your smile with custom dental bridges. Thanks to CEREC technology, we can actually restore teeth with dental crowns in as little as one appointment, so the process of caring for remaining teeth can be more efficient than you expect.
Improving Your Smile With Modern Cosmetic Procedures
Patients who are worried about the condition of their smile can benefit from restorative dental work during a full-mouth reconstruction. This work features restorations that are made to match the appearance of your natural teeth, so you can feel at ease with the way problem teeth look after they have been secured with dental crowns. With that said, you may have lingering unhappiness with your smile after restorative work. If this is the case, we can finish your full-mouth reconstruction by providing cosmetic dental work to deal with discoloration, superficial dental damages, and any problems that make your smile seem uneven or unhealthy.
Talk To Grinnell Street Dental About Starting A Full-Mouth Reconstruction
At our Sheridan, WY dentist's office, patients who are suffering from advanced oral health issues can benefit from a full-mouth reconstruction plan! This plan can be built around your specific needs, and it can help revitalize both your appearance and dental health. For more information, call Grinnell Street Dental today at 307-672-7567.