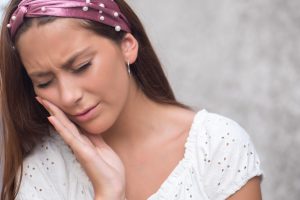 Normally, when someone sits down to a nice meal, they can look forward to tasty food, and pleasant conversation with any friends or family members they happen to dine with. If you are someone who experiences troubles with a sensitive or painful tooth, you may be preoccupied with your discomfort! You should be able to put pressure on a tooth without experiencing problems with pain. At our Sheridan, WY dentist's office, patients who experience this difficulty can come to us for treatment. Thanks to CEREC technology, we can actually create and place a dental crown for a problem tooth in as little as one appointment.
Don't Ignore A Painful Or Sensitive Tooth!
If you have a tooth that is frequently in pain, or one that you are uncomfortable using to bite and chew with, the problem can be serious. If the pain is a recent issue, it could be a sign that a cavity has developed and needs treatment. If you have always struggled with your bite because of a tooth that is weak or undersized, discomfort can force you to bite down in an unnatural way, which can cause TMJ problems if not resolved.
We Can Restore A Problem Tooth With A One-Visit Crown
If there is an issue with your tooth that affects your ability to bite and chew, a dental crown may be necessary to restore it. For many practices, the process of designing and placing a crown can require two appointments. This is because they have to rely on a third party to design custom crowns for them. At our practice, we have CEREC technology that enables us to design, develop, and place a crown all in one appointment! This can make the process of caring for your smile surprisingly convenient. You can be happy to know that the restorations produced this way are made from a ceramic material that can match your natural tooth's appearance.
Stay Informed About Your Oral Health With Regular Exams
If you want to avoid problems with painful tooth decay, make sure you stay current with routine dental exams! By doing so, you receive regular feedback about the condition of your smile, which can include early detection and treatment for cavities. In a situation where a cavity is caught early, it is possible to restore a tooth with a dental filling. Because your visits include expert cleanings along with evaluations, your overall risk for decay can be reduced.
Talk To Grinnell Street Dental If You Are Dealing With Persistent Tooth Pain
At our Sheridan, WY dentist's office, patients who struggle with dental pain whenever they bite can come to us for convenient treatment with a CEREC dental crown! To find out more about how we can help you improve your bite, contact Grinnell Street Dental in Sheridan, WY by calling 307-672-7567.