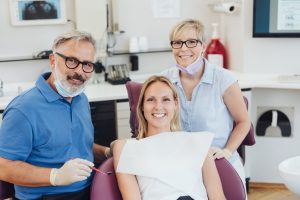 Any time you visit your dentist for a routine checkup, you can hope to learn that there are no problems that should concern you. When there are no problems to address, you can stay out of the dentist's chair until your next semiannual checkup. Unfortunately, not every patient will hear good news at every appointment. In the event that a problem is found during your evaluation, what will happen next? At our Sheridan, WY dentist's office, we can arrange to treat any problem discovered promptly, so that it does not cause difficult complications. When it comes to tooth decay, we can place a lifelike dental filling that matches the color and overall appearance of your enamel, so that you do not have to worry about your appearance after restorative treatment!
We Are Prepared To Follow Your Routine Exam With Dental Care
In the event that your dentist finds a problem like tooth decay during an evaluation, you can look forward to care that restores your tooth's health while preserving the way you look. The goal during any cavity care is to minimize the overall damage to your tooth structure. When appropriate, we can take care of a patient by removing a portion of enamel damaged by decay and placing a dental filling. The filling only occupies the space where a cavity was removed, so the surrounding tooth structure remains intact. A composite resin filling can provide cosmetic benefits, and it can actually bond to your enamel for lasting support.
Enjoy Cavity Treatment With Lifelike Restorations
When taking care of our patients, we understand how concerned they might be about their appearance. You can be glad to know that in addition to providing lifelike fillings, we are able to develop dental crowns that closely match the appearance of your natural tooth. Crowns are used when a person's tooth needs more support than a dental filling can responsibly be used to supply. Thanks to CEREC technology in our office, we can actually design and place your custom crown in just one appointment!
Additional Issues We Can Address After An Exam
Your dentist is watching for more than just tooth decay when evaluating your oral health. After a review, we can help you take on many different concerns with your dental well-being. If you are struggling with jaw pain, or if you show signs of wear and tear from teeth grinding, we can talk to you about TMJ treatment. We also provide laser treatments for cold sores. A procedure can help your sore heal faster, and it can make future eruptions in the area less likely.
Grinnell Street Dental Can Help You Keep Your Smile Healthy!
At Grinnell Street Dental, we are proud to provide care for Sheridan, WY residents that can keep them from experiencing frustrating oral health issues. With that said, we are prepared to respond and address any issues that arise if you do have dental trouble. To find out more, contact Grinnell Street Dental in Sheridan, WY by calling 307-672-7567.