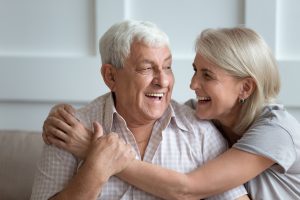 Dental implants have provided patients with impressive support for their prosthetic appliances. An implant-held restoration can improve your ability to bite and chew after you lose a tooth, and it can keep you from experiencing difficulties with jawbone deterioration or shifting teeth. At our Sheridan, WY dentist's office, we are prepared to work with patients who have experienced different degrees of tooth loss. We can recommend a single implant restored with a dental crown if you are trying to replace one tooth. If you have suffered more significant issues with tooth loss, we can find an effective solution that involves more than one implant.
Restoring A Dental Implant With A Custom Crown
A single missing tooth can make it difficult for you to smile with confidence, and may make biting and chewing difficult. A dental implant can be placed at the location where your tooth's roots were located to hold a custom prosthetic appliance. Your dentist can secure a dental crown to this small titanium post that matches the appearance of your natural tooth, and provides support whenever you are eating. Over time, the presence of your implant can benefit you because it can stimulate your jawbone to keep it healthy, and also provide stability so neighboring roots do not shift out of place.
Multiple Dental Implants Can Be Used To Hold A Larger Restoration
When multiple teeth need to be replaced, the placement of multiple dental implants may be called for. Your dentist can make a recommendation for how many implants you might need based on the number of teeth that are lost, and the size of your restoration. A larger dental bridge can be set in position when you have multiple implants. The functional benefits of this arrangement include protection for your jawbone, and better biting and chewing over time.
Enjoying The Functional And Cosmetic Benefits Of Prosthetic Work
When restoring a patient's smile, our practice is committed to providing quality care that preserves the way you look while also helping you enjoy better oral health function. You can be happy to see how a custom dental bridge or crown placed on an implant (or implants) gives you a smile that you are more confident showing off. Because these restorations are designed to offer functional support, they can maintain their appearance and condition even as you use them to bite and chew.
Talk To Grinnell Street Dental About Restoring Your Smile With Dental Implants
Grinnell Street Dental is ready to help you restore your full smile if you are missing one tooth, or if you have several that have been lost. With dental implants, we are able to hold a restoration so that it provides stability for neighboring teeth, protection for your jawbone, and support when you bite and chew food. To learn more, contact Grinnell Street Dental in Sheridan, WY by calling 307-672-7567.