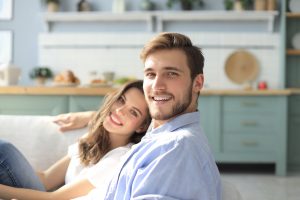 When daily oral hygiene efforts are combined with regular dental checkups, you can do an effective job protecting yourself against problems with tooth decay. Unfortunately, once a cavity has formed, some form of restorative dental work will be required. If you are concerned about the way your treatment might make you look, talk to our Sheridan, WY dentist's office about receiving a tooth-colored dental filling. A filling made from composite resin can bond directly to your enamel, and match its color and texture. When this approach to restorative dental care is taken, we can make sure that your tooth is protected while also preserving the way you look.
Tooth-Colored Fillings Can Ensure Your Dental Work Is Discreet
The idea of a conspicuous metal restoration can make people uncomfortable to the point that they want to completely avoid their dentist! You should know that if you try to ignore a problem with tooth decay, it can actually worsen to the point that you experience a painful tooth infection. Eventually, the problem can become serious enough to cost you your tooth! With that said, modern dental restorations have led to patients receiving lifelike restorations that do not cause problems for their smile. When placed, a dental filling or dental crown designed to match your enamel can fit in so easily that it becomes difficult to identify it at all.
Placing Your Dental Filling
With a composite resin dental filling, your dentist is able to bond your restoration directly to your enamel. This provides an important degree of support, and prevents the risk that space between the filling and enamel might become a gathering space for bacteria. Your filling will be tinted to match the color of your enamel, ensuring that it provides a good match for your smile.
What Else Can My Sheridan Dentist Do To Restore My Smile?
Hopefully, your oral health troubles will remain limited over time. If problems do arise, our dental practice is prepared to help you. We can provide a dental crown for a tooth that requires more than just a dental filling for support. CEREC technology allows us to craft and place crowns in just one visit, making treatment more convenient for our patients. You can also talk with us about restoring your smile with a dental implant-held restoration.
Talk To Grinnell Street Dental In Sheridan, WY About Receiving A Tooth-Colored Filling
At our Sheridan, WY dental practice, patients who require treatment for problems like tooth decay can count on support from a lifelike restoration. To learn more about Grinnell Street Dental, or to set up an appointment with one of our dentist, contact our Sheridan, WY, dental office today at (307) 672-7567.