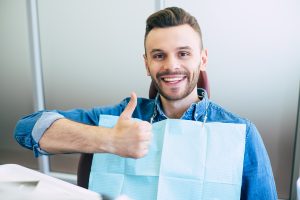 If you have serious concerns about the health and appearance of your smile, you may fear what your dentist might have to say about treatment. Individuals who have issues like tooth loss, dental decay, and problems with their bite may fear that because they have a range of concerns, they will have to make appointments at multiple practices to enjoy results. Fortunately, our Sheridan, WY dentist's office is able to take on a variety of concerns for you! We can arrange to provide a full-mouth rehabilitation plan for you that addresses your different issues with your smile and oral health. By working out a proper series of procedures to help you, we can give you a renewed confidence in both your appearance and oral health.
We Can Make Your Treatment Experience More Convenient
By taking on all of your smile needs at one location, we can make a difficult process easier and more convenient for you. You can feel more comfortable knowing that you have a single practice to turn to for multiple procedures, and one expert to oversee everything being done to help your smile. As we work out your full-mouth rehabilitation, we will interact with you to make sure you understand why different practices have been recommended, and to make sure you are comfortable with the schedule of procedures that we lay out.
What Will Your Full-Mouth Rehabilitation Plan Include?
Your full-mouth rehabilitation plan can include a range of different procedures. For people who have suffered tooth loss, we can discuss having dental bridges put in place, or we can work out a plan to restore dental implants that are provided for you. In order to protect teeth that are in poor condition, we can provide dental crowns or dental fillings after addressing decay. We can also work out plans to address pain from biting and chewing by correcting TMJ problems. At the end of your procedure, we can offer cosmetic dental work to make sure you are excited to show off your healthy smile!
We Can Also Help You Maintain Your Oral Health After Your Smile Is Improved
After completing a full-mouth rehabilitation plan, our practice is prepared to help you maintain your restored smile. We can bring you in for regular dental checkups in order to provide careful cleanings and evaluations. If new problems arise, we can recognize and address them so that they do not worsen and create further concerns.
Talk To Grinnell Street Dental About A Full-Mouth Rehabilitation Plan
At Grinnell Street Dental in Sheridan, WY, patients can count on us for dedicated care when they experience advanced oral health concerns. We can start you on a full-mouth rehabilitation plan to completely restore your smile if it is affected by multiple problems. To learn more about Grinnell Street Dental, or to schedule an appointment with one of our doctors, contact our Sheridan, WY, dental office today at (307) 672-7567.