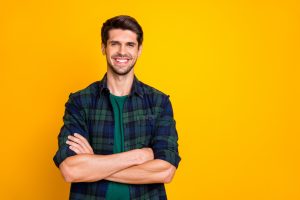 When you have problems with crooked teeth, it can be hard to focus on the positive qualities of your smile as you fret over the way gaps and overlaps affect the way you look. People often assume that if they want to make changes to the alignment of their teeth, they will only be able to qualify for orthodontic treatment with metal braces. What you should know is that our Sheridan, WY dental office is able to help many people with Invisalign appliances. Invisalign can help gradually move teeth into their proper positions without requiring you to wear any conspicuous appliances. What you use instead are a series of clear appliances that have been custom-made to carefully shift your teeth. This is one of many treatments we provide that are able to improve your smile.
Crooked Teeth Can Create Frustrating Smile Flaws
If your teeth are poorly spaced, if they overlap, or if there is any other alignment problem that stands out, you can feel frustrated by the way you look. When patients see crooked teeth as interfering with the quality of their smile, they may say little to a dentist, because they assume they have to find an orthodontic specialist. However, you can certainly bring up your interest in straightening your smile during a visit to our Sheridan dental office! By doing so, you can start learning about Invisalign appliances, and discover how you can finally enjoy desired cosmetic improvements.
Should You Look Into Treatment With Invisalign?
Many individuals have been impressed by the effect Invisalign has had on the way they looked, and by how little these appliances affect their daily life. When you start treatment, you will receive a sequence of appliances that have been custom-made for your teeth. When worn, these appliances gradually start to change the positions of teeth over time. Instead of wearing a single appliance that has to be adjusted, Invisalign treatment involves the use of several appliances that help take you closer to your results step by step. These appliances can require fewer check-ins with your dentist, which can make them more convenient.
How Other Cosmetic Treatment Options Can Restore Your Smile
Our practice has several procedures we offer in order to help people feel better about the way they look. With porcelain veneers, we may be able to correct your issues with crooked teeth in as little as two appointments! Veneers are custom-made restorations that are able to cover gaps and overlaps, and they can additionally help with dental damage and discoloration. You can also talk with us if you are interested in fixing problems like dental discoloration. If you want to learn more about cosmetic dental work, or about a particular treatment, an appointment at our practice allows you to learn more about the options expert care can open up.
Talk To Grinnell Street Dental About Correcting Your Crooked Teeth
At Grinnell Street Dental, patients who are eager to do something about poor dental alignment can be excited to learn about Invisalign treatment! With these appliances, you can make corrections to the spacing and alignment of teeth without spending time with conspicuous metal braces. To learn more about Grinnell Street Dental, or to schedule an appointment with one of our doctors, contact our Sheridan, WY, dental office today at (307) 672-7567.