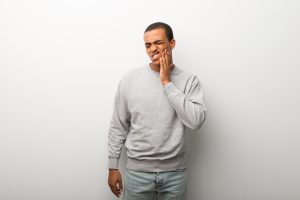 If you try to ignore a problem with dental discomfort, you can quickly discover just how intrusive this type of pain can become! You may find it hard to bite and chew certain foods, or find that hot or cold items cause severe discomfort. You should also be aware that by ignoring problems with dental pain, sensitivity, or limited jaw movement, you can allow an oral health issue to worsen. Our Sheridan, WY dental practice is ready to evaluate your oral health and determine why you are dealing with discomfort. We are prepared to help you correct a problem with dental decay or a tooth injury, and we can help you if you are struggling with TMJ dysfunction.
Poor Oral Health Can Have An Unwelcome Effect On Your Daily Life
Your ordinary routine can become less pleasant when you have dental pain or discomfort to deal with. If you have chronic pain in your face and jaw, you can start to experience chronic headaches, as well as issues with limited motion that can make eating, laughing, and speaking difficult. If the problem is centered around a certain tooth, pain can leave you wary of hot and cold foods or drinks. It can also become a persistent distraction, one that can actually worsen over time as problems with that tooth continue.
Restoring Teeth That Have Become Painful Or Sensitive
If you have problems with a certain tooth, we can provide an evaluation to find the cause of the problem. Discomfort can often be tied to a problem with unresolved tooth decay. When the problem leads to pain or sensitivity, that decay may already be too severe for a dental filling. In cases where more support is needed, we can use CEREC technology to produce a custom, lifelike dental crown in just one appointment. The crown's presence can preserve the way you look, make biting and chewing easier, and even keep your tooth safe from a new problem.
Correcting Problems That Make Jaw Movement Painful
If you have difficulty moving your jaw, or experience regular pains when biting, chewing, or speaking, you may require help with TMJ dysfunction. This is a problem that can also lead to headaches, facial pain, and even discomfort in your neck and shoulders if nothing is done in response. In cases where patients suffer TMJ dysfunction, we can create a custom appliance that provides important relief for your jaw joints and muscles.
Talk To Grinnell Street Dental About Resolving Problems With Dental Discomfort
At Grinnell Street Dental, patients who experience problems with dental pain or sensitivity can count on us to identify the problem, and provide relief! To learn more about Grinnell Street Dental, or to arrange an appointment with one of our doctors, contact our Sheridan, WY, dental office today at (307) 672-7567.