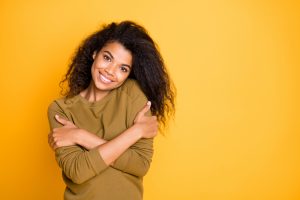 When you feel self-conscious about the way you look when you smile, you can find that the right cosmetic dental procedure can help you fix the issues that frustrate you. At our Sheridan, WY dental practice, we provide procedures that help people correct issues with the color of their teeth, as well as their shape, size, and alignment. If you are looking for a way to change multiple flaws, and if you want to enjoy long-lasting results, you may be interested in arranging a treatment with porcelain veneers. In addition to being effective at addressing many different types of cosmetic flaws, veneers are popular because the porcelain material used to construct them can ensure you enjoy long-term smile improvements!
What Can Veneers Do To Improve The Way You Look
Veneers are able to make big improvements to the way a person looks because they completely cover the front of teeth. Their design is able to imitate the look of healthy tooth enamel – they even have the ability to mimic the way your teeth reflect light! When patients receive veneers, they can count on positive changes to the shape, size, and condition of teeth. They can also hide discoloration, and begin showing off a whiter smile.
Receiving Custom-Made Veneers To Improve Your Appearance
In order to provide the best possible cosmetic improvements, our practice takes the time to carefully measure your teeth when planning your procedure. The measurements that are taken are used to make sure that every veneer you receive is capable of completely restoring the look of a tooth being covered. Your initial visit can also involve some preliminary work on your enamel, as a minimal amount of tooth structure may need to be removed to make space for your veneers.
Once your custom restorations are ready, you can come in for a second appointment where they will be bonded to the front of your teeth. Before performing the bonding process, your dentist will perform an important final check to ensure that the veneers are the right shape and size you required. The durability of these restorations ensures that you can enjoy the benefits from this treatment for many years, even as your teeth absorb biting and chewing pressures.
We Can Help You Maintain Your Improved Smile!
At our practice, we can do more than just help people take care of smile concerns, or address oral health threats. We are ready to set up an appointment with you to discuss your general oral health, and we can help you maintain a healthy smile for many years. After cosmetic dental work, the right approach to preventive care can ensure that you sustain your improvements for the long term.
Talk To Grinnell Street Dental About Veneers
At Grinnell Street Dental, we are ready to help you improve your smile with custom porcelain veneers! To learn more about Grinnell Street Dental, or to schedule an appointment with one of our doctors, contact our Sheridan, WY, dental office today at (307) 672-7567.