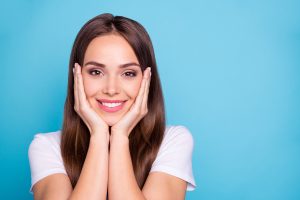 When patients feel uncomfortable showing off their smile, they can be understandably curious about what cosmetic dental care might do for them. With that said, people sometimes hesitate to even bring up an interest in cosmetic work because they are unsure of what treatment can really do for them. Others avoid mentioning their interest because they fear that the necessary procedure or procedures will be too time-consuming. At our Sheridan, WY dental office, we can help you show off significant smile improvements with conservative changes to your tooth structure. Through a tooth bonding procedure, we can restore teeth that appear unattractive, or look out of place, so that they make positive contributions to your smile. The care you receive can have a significant impact on the way you look, and it can be completed in as little as one day!
What Problems Can You Address With Cosmetic Tooth Bonding?
Cosmetic bonding work can be helpful in many situations. Patients who are bothered by dental damage can have chips and cracks covered, while people bothered by misshapen teeth can see positive changes. This work can also help you if you have teeth that appear out of place because their color does not match their neighbors.
Arranging Your Personalized Cosmetic Treatment Experience
When you arrange a cosmetic bonding procedure, your smile improvements can be made without the use of any permanent restorations. Because of this, many people who come in for this treatment have their results after just one appointment! The composite resin material used to place tooth-colored dental fillings will be applied to the surface of your enamel. This application can lead to positive changes in the color of teeth, while also resulting in damages and other flaws being covered.
Can I Count On Cosmetic Work To Deliver Lasting Results?
When you plan any cosmetic procedure, our goal is to deliver long-lasting results. Bonding procedures allow patients to address issues they have with superficial damages, teeth that appear misshapen, and concerns with discoloration. The resin material used in this treatment is remarkably strong, and because it is biocompatible, your tooth enamel will naturally bond with it. We can also offer lasting results with the placement of porcelain veneers. While treatment with veneers can take more time, it can lead to stunning smile improvements that last for many years.
Discuss Cosmetic Tooth Bonding At Grinnell Street Dental
At Grinnell Street Dental, patients who want to make improvements to their appearance can be excited to discover the advantages of arranging a bonding procedure! If you have questions about this treatment, or any other type of cosmetic work available at our office, let ue know! To learn more about Grinnell Street Dental, or to schedule an appointment, contact our Sheridan, WY, dental office today at (307) 672-7567.