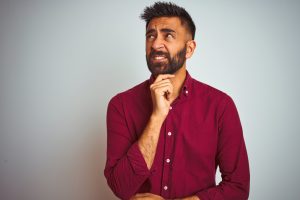 If you have difficulty moving your jaw while speaking, or trying to eat, it could be due to an untreated issue with TMJ dysfunction. This problem can do more than just interfere with the movement of your jaw – you could experience chronic pain in your face, head, and head because of it. You can also begin grinding your teeth, which can lead to dental damage! At our Sheridan, WY dental practice, we are prepared to work with patients who are struggling with these jaw troubles. By correcting the matter, we can reduce your daily discomfort, and make it easier for you to bite and chew. Care can also put a stop to your teeth grinding issue, which can further protect your dental health.
Grinding Your Teeth Can Lead To Problems With Your Dental Health
If your TMJ issues have led to chronic teeth grinding, your smile and oral health could be in real peril. People who struggle with this issue often clench or grind their teeth while sleeping. As this happens throughout the night, you can cause significant wear and tear, or do more significant damage to your enamel. This can also further aggravate your jaw joints and muscles, worsening your experience with TMJ dysfunction.
Identifying And Addressing Problems With Your Jaw
If you think you might be struggling with discomfort because of TMJ dysfunction, our practice can evaluate you, and determine how the problem can be treated. With a special oral appliance, we can reduce the stress that your joints and muscles are experiencing. That relief can help you feel more comfortable, and put an end to your struggles with daily aches and pains.
If you have already experienced dental damage because of teeth grinding, we can include restoring your smile as part of our larger plan to help you regain your oral health. While relatively minor wear and tear can only require cosmetic dental work, you may need dental crowns for any teeth with more serious damage.
We Can Make Sure All Of Your Oral Health Needs Are Being Met
During regular dental visits, our commitment is to help our patients address any problems they might be having with their oral health. If you have been struggling with discomfort because of TMJ dysfunction and teeth grinding, we can recognize symptoms of these issues, and provide treatment. We are also ready to help you deal with any other concerns identified during a review.
Talk To Grinnell Street Dental About Issues With TMJ Disorder And Teeth Grinding
At Grinnell Street Dental, we are prepared to help patients who are struggling in their daily life because of TMJ problems. If you have been experiencing teeth grinding issues, or if you are struggling with daily pain, we can determine what the matter is, and provide important relief. To find out more about Grinnell Street Dental, or to make an appointment with one of our doctors, contact our Sheridan, WY, dental office today at (307) 672-7567.